"Catalonia, the process that Spain can't win". That is the title of this Sunday's editorial in Le Temps, Switzerland's leading French-language newspaper.
The newspaper begins explaining the recent celebration of the 40th anniversary of Spain's current constitution; a celebration that "is enveloped in a strongly rancid odour," notes Le Temps. "After disappearing for four decades, the extreme right has come back, fuelled by a crisis in Catalonia that is far from resolved," explains the Swiss daily, also predicting that in Spain "delicate weeks and months lie ahead" in relation to the judicial process against the pro-independence leaders.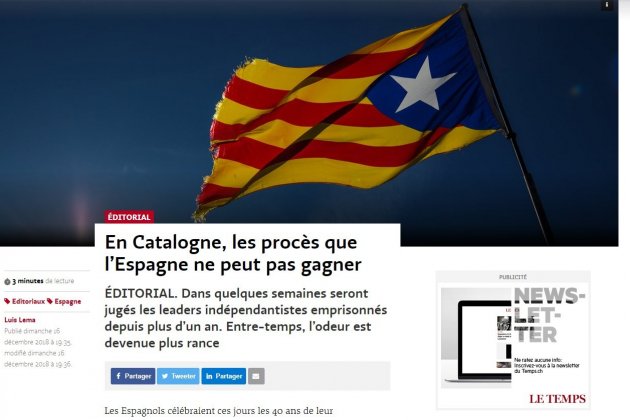 The Geneva-based newspaper attributes the strong showing of the far right Vox in the recent Andalusian elections to "nostalgia for General Franco's dictatorship" and the "deterioration of the Catalan independence crisis. The blame, according to Le Temps, lies with the "poor response of the political class and the Spanish government".
Le Temps strongly criticises the handling of the Catalan conflict and warns the Spanish authorities: "They can't elude their responsibilities; when they came up against a peaceful multitude in Catalonia, accused them of sedition and cast them as coup perpetrators, the Madrid government let its ultra-nationalist reflexes have free rein." According to the newspaper, the repressive action of the Spanish state has made right-wing extremists reappear.
Finally, the editorial predicts that the trials of the political prisoners "can't be won by Madrid", since "the Catalan question has arrived to stay".