Catalan political prisoners Jordi Sànchez and Jordi Turull have begun a hunger strike in Lledoners jail. This Saturday morning, Sànchez, former president of the pro-independence group Catalan National Assembly (ANC), and Turull, former minister and spokesperson for Carles Puigdemont's Catalan government, informed the administration of the Lledoners penitentiary centre where they are imprisoned of this intention, "without determining its duration", as prison sources put it. The objective of the hunger strike is to denounce the obstacles placed by Spain's Constitutional Court which prevent their case from reaching the European Court of Human Rights (ECHR).
At a press conference on Saturday in Barcelona, the prisoners' lawyer, Jordi Pina, read a statement by Sànchez and Turull, who condemn the Constitutional Court's blockage of the path to European justice. Specifically, they criticize that the Spanish court has accepted all the appeals they have presented to it, but has not subsequently given any ruling, meaning that the case cannot be referred to the ECHR in Strasbourg.
On this point, Jordi Pina said that the two pro-independence leaders who have begun the hunger strike have presented eight appeals that have been accepted, but for which no decision has been received. The first of these was presented on 22nd November, 2017, more than a year ago. In the prisoners' statement, they comment that, according to Spanish law on criminal process and the Constitutional Court's jurisprudence, appeals against rulings of preventive detention have preferential character and must be resolved in a maximum of 30 days. Jordi Sànchez has been in preventive prison for over 13 months continuously and Jordi Turull for the last 8 months as well as an additional month in late 2017. Along with the other seven Catalan political prisoners also held in preventive prison, they are accused by prosecutors of crimes of rebellion relating to the Catalan referendum and independence declaration in October 2017. 
"We are not doing this against anybody, but rather in favour of raising awareness to prevent something that is not normal from being assumed to be so", explain Sànchez and Turull, who also state that they demand a fair trial. "It is in the international courts, and especially in the European Court of Human Rights, that we deposit our confidence for justice", they affirm. They make an appeal to "all democrats in Catalonia, Spain, Europe and the world".
Lawyer Jordi Pina clarified that no condition has been stipulated by the men for the hunger strike, and has said that he doesn't know if other political prisoners will follow a similar path.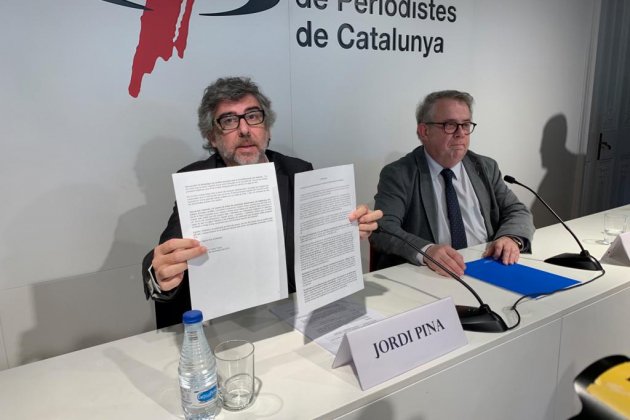 "The risks appear right from the start"           
Also appearing at the press conference was Dr Jaume Padrós, both as president of the Barcelona Medical Association, and as personal doctor of Sànchez and Turull. He explained that the pair had told him of their decision this week, and that he expressed his "concern". He noted there have been no precedents of similar hunger strike cases since the era of the 1970s, giving the example of Catalan activist Lluís Maria Xirinacs. He stressed that the decisions of both men had been individual and free.
Padrós announced the formation of a monitoring group of experts in ethical, legal and medical areas, which "will also watch over the political prisoners to protect them from all kinds of coercion". He also stated that the two prisoners have signed wills.
The doctor warned in such cases that there are no instances of survival beyond two months. And he described some of the consequences of a hunger strike: "General loss of strength, fatigue, loss of muscle mass, digestive symptoms, alteration of sleep patterns, loss of appetite and essential nutrients, these being symptoms which can in turn cause conditions in vital organs that can lead to complications, coma or death".
"The risks appear from the very start of the hunger strike", alerted Padrós, adding: "The more days go by, the more intense will be the surveillance of the men's health parameters". He said that the welfare services at the prison of Lledoners "have special expertise" in this type of situation. Padrós admitted that this situation could create "difficulty" in moving them to Madrid for a trial.
Medical protocol
According to sources in the prison administration, any inmate who decides to begin a hunger strike must communicate the decision individually to the prison direction via a written form, which has to specify if the strike will only involve a rejection of food or of both food and drink. In the former case, the prison medical service will monitor the state of the prisoners through blood pressure and weight monitoring, and blood tests.
Initially, these checks will be made every two days, but the frequency is adapted to the medical evolution of each inmate. If hospitalization is necessary for a prisoner, he would be transferred to the Penitentiary Hospital Unit in the city of Terrassa, about 40 km from Lledoners. As an extreme measure, a judge can authorize force-feeding, involving administration of a solution, under medical recommendation. 
Prison inmates on hunger strike remain under the same prison regime. That is, they maintain their daily schedules and activities, as well as the obligation to go to the dining room like all other prisoners.
In the photo at the top of the article, Jordi Sànchez is at far left, and Jordi Turull third from left, and they are seen with the other five male pro-independence prisoners, photographed in a prison courtyard. Left to right: Jordi Sànchez, Oriol Junqueras, Jordi Turull, Quim Forn, Jordi Cuixart, Josep Rull, Raül Romeva. Absent from the photo are the two female political prisoners, Dolors Bassa and Carme Forcadell.