The three exiled Catalan MEPs in Brussels have jointly asked the European Commission for an explanation on a Spanish government operation in 2017 to intervene in extremis to prevent the EU from acting as a mediator between the Spanish and Catalan governments in the days following the independence referendum of 1st October 2017.
According to a recent article by journalist Carmen Morodo in Madrid daily La Razón (link in Spanish), shortly after the referendum, the president of the European Commission, Jean-Claude Juncker, included such a mediation proposal in the speech he was to read before the European Parliament on 4th October, three days after the vote in Catalonia.
However, Juncker had to leave for India on a last-minute trip and it was left to commissioner Frans Timmermans to read the text he had prepared.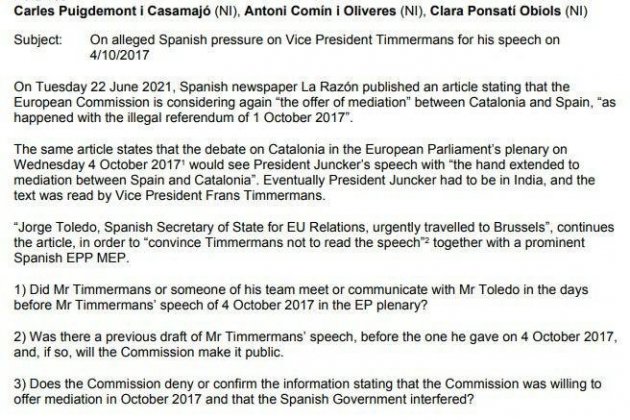 Before that plenary session, however, Esteban González Pons, MEP for the Popular Party (PP), alerted Mariano Rajoy's government, which sent the undersecretary of state Jorge de Toledo to Brussels to prevent the EU from offering its outstretched hand in the crisis, which could have radically changed the events that followed the referendum.
In the end, the Spanish representatives managed to convince Timmermans not to read that speech, and thus at the last minute the proposed mediation was prevented from seeing the light of day, according to La Razón, which told the story in the context of the current situation, with the jailed pro-independence leaders having been partially pardoned, and thus "Europe could be considering resuming the offer of dialogue".
Timmermans's contacts
Presented with this information, the three Junts MEPs, Carles Puigdemont, Toni Comín and Clara Ponsatí, have addressed a written question to the Commission asking if Timmermans or some of his team communicated with Toledo in the days before the October 4th plenary session. 
They also ask whether, as the news items states, there was a draft of the speech prior to the one which Timmermans read on October 4th, 2017 at the plenary, and they demand that, if so, the text be made public.
And finally the MEPs ask directly if the Commission can confirm or deny the information that the EU was willing to offer mediation between Spain and Catalonia in October 2017 and that the Spanish government interfered in this.
In fact, intervention from the EU was one of the options which the Catalan independence movement hoped would emerge in order to change the course of the Spanish repressive clampdown in the days before and after the referendum.