Tuesday saw the start of the trial of Carles Puigdemont's bodyguards, who accompanied the exiled Catalan president on the European trip on which he was arrested. The two Mossos d'Esquadra police officers were in charge of the president's security during his trip from Stockholm to Brussels on March 23rd, 2018.
Two days later, German police arrested Puigdemont just after he had crossed the border from Denmark. Spanish public prosecutors are demanding three years' prison for the two officers for an offence of concealment. That is, they are accused of attempting to prevent the exiled Catalan president from facing justice. The two officers assert that just the opposite was true: their destination was the Belgiun prosecutors office.  
A European Arrest Warrant - the second from Spain's Supreme Court - had just been issued for Carles Puigdemont and the intention of the travelling group was, according to the two defendants, to report to the Belgian prosecutors as soon as possible. That's why they took "fast routes to be able to deliver Puigdemont", they explained in the first session. They reiterated that in no way did they attempt to dodge the police, hide or flee. They believed that what they were doing was the right thing because the lawyers had told them that president Puigdemont had to be taken to the prosecutors' office in Belgium after Spanish judge Pablo Llarena had issued a new arrest warrant.
Statements of the defendants
The Mossos had taken holidays when they travelled to Belgium. The two officers arrived on March 19th in Waterloo, where Puigdemont had settled after leaving Spain - following the Catalan declaration of independence and the simultaneous imposition of Spanish direct rule on October 27th, 2017.
On March 23rd, 2018, while they were in Belgium, "an unidentified person" asked them to pick up Puigdemont, who was in Helsinki (Finland) when the Spanish judge carrying the case at its investigative stage, Pablo Llarena, reactivated the European Arrest Warrant. The officers testified at trial that they did not "at any time" feel that they were committing any wrongdoing, although they were aware that they could be arrested. "We didn't have to hide anything from anyone," said Xavier Goicoechea.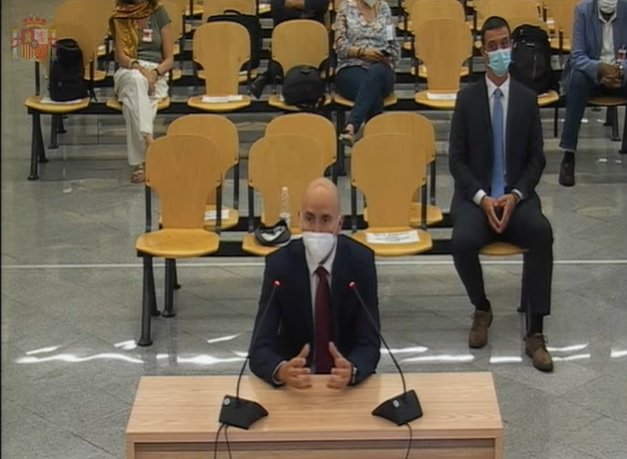 The two Mossos explained that their mission was to pick up Puigdemont, who was in Stockholm, and return him to appear before the prosecutors because a new European warrant had just been issued. And both stated that they did so at the directions of the president's lawyers.
The bodyguards said that they used the president's usual car, "known to the police and the press", said Carlos de Pedro Lopez, and went via main routes. Fast highways which had traffic controls, such as licence plate readers, cameras, radar... with no intention of evading or hiding.
The border crossings did not cause any problems until they arrived in Germany, where they were stopped, taken to a rest area and, although they were told it was a routine traffic check, hooded agents with long weapons began to appear. After checks of their documentation, the two Mossos were released, and Puigdemont was transferred to Neumünster prison.
The day to day in Waterloo
The two Mossos, Xavier Goicoechea, from the bodyguard unit, and Carles de Pedro López, a public security officer, spent a few days of their holidays in Waterloo in March 2018. In their brief statement in the first trial session they explained that the day to day in the house where Carles Puigdemont lived was to do household chores. "We would assemble furniture, we cleaned and we went shopping," Goicoechea said. In his case, he had also acted as a driver at times to pick up the president.
The major task arrived on March 23rd when they were asked to pick up the president in Stockholm and they ended up being arrested.
Carlos de Pedro López returned home on March 28th, three days after Puigdemont's arrest. He was arrested at Barcelona airport. Just as the plane landed "four or five Spanish police cars showed up. They came out hooded and asked everyone for documentation."
Xavier Goicoechea was arrested one morning when he was leaving his home in Vilassar de Mar.