Professional clown Jordi Pesarrodona has testified before a court that he had "nothing to do" with the organization of the Catalan independence referendum of 2017 and that, although he is a former member of his local municipal council, he went to the polling station on October 1st in his town of Sant Joan de Vilatorrada as "just another citizen". The trial of the clown for an alleged crime of serious disobedience began today in the city of Manresa. Pesarrodona faces two years of disqualification from holding any public office or public sector job, and a fine of 5,400 euros for his alleged role in the Catalan indepedendence referendum.
Today, the head of the Civil Guard unit deployed to stop the voting in Sant Joan de Vilatorrada also testified. He said he recognized Pesarrodona from the "clown's nose" photo published several days earlier and told the judge he saw clearly that the local man was exercising leadership over the people who had gathered at the school. The officer also said that his unit had gone to the town because some "information officers" had seen that there was electoral material there. Finally, he said that the Civil Guard unit used force "proportionately and without sense of revenge."
Pesarrodona had come to public attention on 20th September 2017 when, wearing his clown nose, he stood next to a Civil Guard officer during searches in various Catalan government departments in Barcelona, an action which he asserted was a peaceful vindication of his views. Ten days later, he participated in the referendum in his village, and again exercised passive resistance.
Arrival at the court
The clown arrived at the Manresa court at half past ten and was greeted by about 300 people, including several elected officials from the pro-independence parties JxCat, ERC and the CUP. Before entering the courts, Pesarrodona stated: "The trial has been won even before we enter, because they'll have lost even if I am convicted."
"This is a breach of my rights and an attack against the freedom of expression and non-violent actions," he said. "And let it be very clear that voting is democracy and we'll keep doing it always!"
Among those present to support the clown and former local councillor were JxCat politicians Laura Borràs, Eduard Pujol, and Francesc de Dalmases.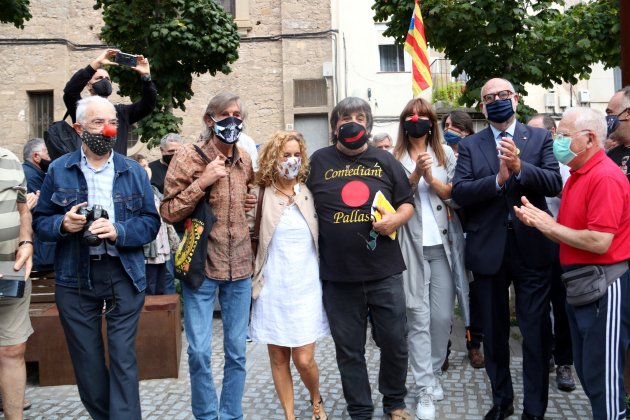 Before entering court, Jordi Pesarrodona said that his case should not have gone to trial, as he "was not even mayor". He said it was all a "persecution" with the intention of "disabling the independence process." However, the professional performer feels strongly that the repression only succeeds in "making us stronger".