Football coach Pep Guardiola felt compelled to speak his mind after Saturday's arrest of Carola Rackete, captain of the Mediterranean rescue ship Sea Watch 3, owned by the German NGO of the same name. The 31-year old captain Rackete took the decision to bring her vessel into the Italian port of Lampedusa in the early hours of Saturday morning.
Rackete did not have authorization to dock but had declared an emergency on board due to the need to land the 40 immigrants the ship had rescued more than two weeks before. The captain was arrested by Italian police and accused of "resistance or violence against an armed vessel", an offence that is punishable with prison sentences of three to ten years. The accusation relates to a police launch which allegedly tried to intercept the Sea Watch 3.
But Manchester City coach Guardiola was clear about his view of the matter, as he expressed in a tweet:
Carola Rackete.
La meva heroïna.
La detenen per salvar vides al Mediterrani.
Ens anem a la merda!

Carola Rackete.
My heroine.
She is arrested for saving lives in the Mediterranean.
We are in the shit!

—

PepTeam

(@

PepTeam

) 29

de

junio

de

2019
It is by no means the first time that the Catalan coach has publicly supported an NGO. In April, the Manchester City coach came out in support of another Mediterranean rescue ship, Open Arms, at a press conference, at which he wore a hoodie bearing the ship's name. Pep Guardiola is also well-known for consistently wearing a symbolic yellow ribbon to denounce the ongoing human rights issue in his own country: the Spanish repression of the Catalan independence movement, with politicians jailed for political reasons and others in exile.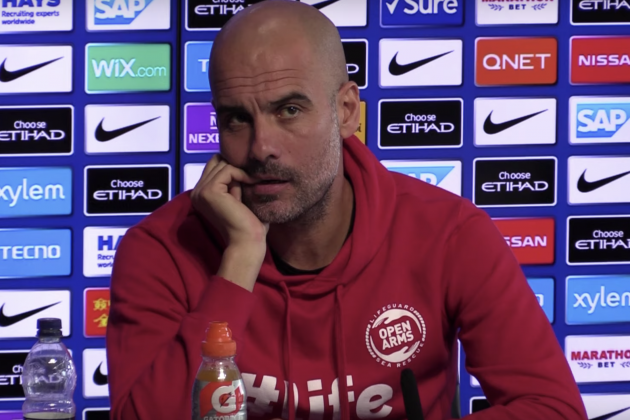 The Premiership-winning football coach sent a bilingual tweet, declaring in English and Catalan that young rescue ship captain Carola Rackete was "his heroine". His reaction to her arrest "for saving lives" was, in Catalan, Ens anem a la merda! - literally, "we are going to shit!" The English translation he gave in his tweet, while not inaccurate, perhaps portrays the situation as even worse: "We are in the shit."
Meanwhile, Carola Rackete has spent her first night under house arrest in a Lampedusa residence. According to Italian newspaper La Repubblica, she will appear before a court on Monday or Tuesday. The Italian daily also advises that the Open Arms is currently heading to Lampedusa, escorting a stricken refugee boat with 40 immigrants on board, "dehydrated after three days at sea". "So the problem will soon be raised, once again" warns La Repubblica.