One of the athletes who has emerged as a star for Spanish viewers of the 2020 Tokyo Olympics is Ana Peleteiro. The triple jumper from Galicia, winner of Olympic bronze, took the medal as she found the "Ana the warrior" that she carried within and gave a lesson on what it means to be an elite athlete.
🔊¡Que escuche toda España!

👏Las primeras palabras de una emocionadísima Ana Peleteiro @apeleteirob tras asaltar el bronce olímpico #TokyoRTVE1A

🗣️"Sabía que hoy podía ser un gran día, pero nunca me imaginé que lo conseguiría" #Athletics

📹@COE_es pic.twitter.com/xVEkUP0zRN

— Teledeporte (@teledeporte) August 1, 2021
Peleteiro: a medal and a message
A hop, step and jump which she didn't know if she could find within her, but she broke her own Spanish record twice. And with a mark of 14.87 metres, took third place on the podium, and then said it had been a team effort: "I could say it was all my own effort, but in life you can make a huge effort and if you're not in the right place at the right time and with the right people around you, it doesn't work".
Ana Peleteiro, medallista olímpica: "Podría decir que es gracias a todo mi esfuerzo... Pero en la vida te puedes esforzar mucho, pero si no estás en el sitio correcto, en el momento correcto y con las personas correctas, no funciona". Enorme.pic.twitter.com/prNTiO6NZH

— Fonsi Loaiza (@FonsiLoaiza) August 1, 2021
Peleteiro won Olympic bronze, the Portuguese Patrícia Mamona took silver and the Venezuelan Yulimar Rojas claimed the gold. In addition, the Olympic champion, who is part of the FC Barcelona athletics team, set a world record.
Peleteiro and the viral tweet against Vox's Abascal
But that was not all. After winning the medal, a tweet that Peleteiro sent a year ago went viral. It was a response to the leader of the Spanish far-right Vox party, Santiago Abascal, during the weeks leading up to the 2020 Galician elections.
The far-right leader announced three events that he would attend in Galicia and Peleteiro replied forcefully: "You would be better to stay home. The only thing Galicia has in green are the hills. You're welcome."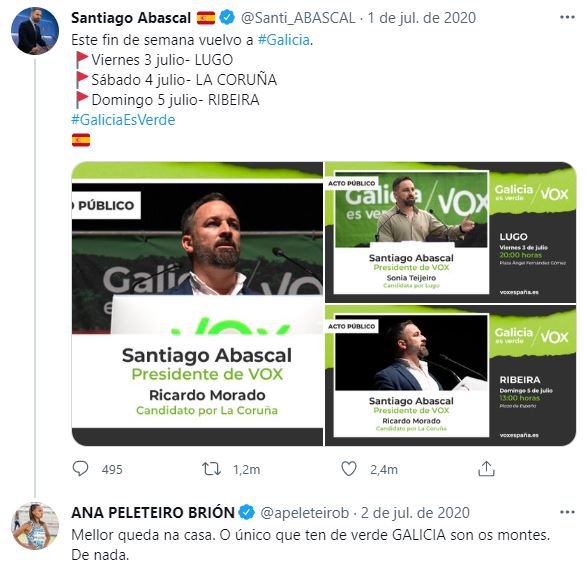 A response that earned a lot of applause on social media a year later when the Galician athlete had stepped up onto the Olympic podium. "Bronze and brave" and "an Olympic medallist in every sense" said Twitter users.




But as well as massive praise for her comments, there were a few disgusting racist remarks: "Her father is not 100% Spanish, she's not pure Spanish... the same as the gymnast this morning", said one user. Ugly words that were paralleled ambiguously by another member of the Vox party, the Spanish MP Juan Luis Steegmann, who referred to both Pereira and Spanish gymnast Ray Zapata, who had just won a silver medal in Tokyo as "examples of the emigration that Spain needs".

Words which prompted further press microphones to be pointed at the two Spanish Olympic heroes. "We are people of colour, but we are representatives of Spain" says Zapata matter-of-factly to the reporter. Prompting Peleteiro to cut in: "What do you mean 'of colour?' We're black. They are 'of colour', they change colour more than the sun does."
Ray Zapata: Somos de color, pero representamos a España...
Ana Peleteiro: ¿Qué de color? Somos negros. De color son ellos, que cambian más de color que el sol pic.twitter.com/xF6JgKGdwL

— Álvaro Caballero (@Alv_cab) August 2, 2021
Peleteiro's responses went viral thanks to her dignity and clarity. There are not many instances of athletes able to have their say politically, willing to take the far-right to task and capable of speaking plainly on a subject like racism on which some Spaniards could definitely broaden their horizons.