The pro-independence party Together for Catalonia (Junts) has this week defended its third "amendment in the entirety" - that is, complete rejection - of a Pedro Sánchez government budget, unlike its former pro-independence partners in the Republican Left (ERC), who have facilitated its initial passage through the Spanish houses of parliament. After the debate in the Congress of Deputies, Míriam Nogueras (Dosrius, 1980) receives ElNacional.cat in her office on Calle San Jerónimo in Madrid. She is convinced in what she and the party are doing, but also "concerned" about the "concessions" that ERC might make, from the budget to the reform of the crime of sedition. Of course, she doesn't want to fuel the "noise" around her party. She doesn't talk about the Dalmases case, which she says is "closed" after the MP's resignation, or about the fake accounts on Twitter: "The only ones who have faced a complaint to police about massive bots are ERC". She is a member of the Junts executive and doesn't think the party needs to air its internal laundry.
Last year Junts showed itself willing to negotiate the Spanish budget. There were even talks between Catalan finance minister Giró (of Junts) and his Spanish Socialist counterpart Montero. Not this year. Why?
Last year we met with people from the Spanish ministry. We tried to start negotiations, but in fact, we have always been there. It is the Spanish government that should be asked. They complain that Junts does not want to negotiate, and Junts has never said that. On Wednesday, in the plenary session, the minister reproached us for not being at the dialogue table. It all seems like a joke: we're not at the table because we've been vetoed. And we're not sitting down to negotiate because these people don't want to negotiate with Junts. And that's it.
Has there been any kind of contact?
No. I also have to tell you that it looks like we come here and are not doing anything. We have many laws. In fact, the deadline for two more bills has passed this week. In addition to the budget, there is other work being done. Playing to the gallery, the PSOE has a discourse that Junts doesn't want to negotiate and that we are the ones who say no, but on a day-to-day basis they come looking for us because we pass them or negotiate amendments. There is a double discourse. Between 50 and 60% of the amendments we present to bills, we end up passing. However, we don't end up voting yes to the law if it's not enough. And as long as there are parties that end up giving way for less, you can never reach those higher expectations. And we've already said it with the budget: as long as there is someone there, it gets sold cheaply.
Is that why ERC is negotiating?
The point is not that I believe this, but rather that it has been demonstrated over recent years. The PSOE is selling the image of dialogue and negotiations... There are many headlines, but when it comes to the truth, when you scratch below the surface, there is nothing. All of those agreements that have provided the headlines have not been fulfilled. Not one. And it seems to us that it has reached extremes that must be denounced. The question is why ERC is not asked why it took this turn of the script five years ago. What ERC said five years ago is absolutely the opposite of what it is saying now.
How do you interpret it?
You have to ask them. We read a lot that "Junts attacks". Junts does not attack ERC. Junts is in the same place that we were before. They are the ones who have left. They haven't told us why. And they are not even being asked why they are on the opposite side. We also have to ask who benefits from this turn that ERC has made. And who it harms that Junts continues where we have been. Maybe [with these questions] we will understand many things.
And what would it take for Junts to negotiate and pass the state budget?
Junts is where it was previously. And we say to the minister: it is not Junts that doesn't want to negotiate; it's that there are people who do not want to negotiate with Junts. The PSOE will not negotiate with Junts as long as ERC gives it everything more cheaply. Even for free in some cases. We have seen votes that have been given for nothing in exchange. Prime minister Sánchez himself has said thank you for these votes for free. We, who have negotiated many times with the PSOE, know perfectly well that we are not ERC. That if we negotiate 100 of something, it's 100. And if there aren't 100, our vote will cost 100 times more the next time.
ERC gives the PSOE everything cheaper than Junts per Catalunya, in some cases even for free
And how is this 100 guaranteed?
There has to be a bit of a leap of faith first. But at the first leap of faith, if it no longer works, you no longer negotiate. In the end, when it's something the PSOE wants, you have the force. That's why we don't understand the actions by certain parties. You can't go into a negotiation feeling smaller than the person next to you. Do you need me? Well, these are my conditions. It's negotiated, an agreement is reached and if you do not comply with it, the problem is yours. When you want to comply, you will come and find me. But it will cost you more. If the 23 pro-independence votes [in the Spanish Congress] had been working together...
Is this united front still possible in Madrid?
[Thinks]... This question could probably have been answered "well, perhaps yes" two or three years ago. But the question we have to ask now is whether ERC will return to where it was three, four or five years ago to be able to continue the work we started together. We don't really understand their role. If they were achieving things for Catalonia, we would applaud. But the country is not benefiting from this. On the contrary: since the PSOE-ERC agreement has been in place, in Catalonia we have less power, we receive less money than ever and the agreements that are supposed to benefit Catalonia are not being fulfilled. We understand that what is being obtained is to do with the party. It is obviously not to do with the country.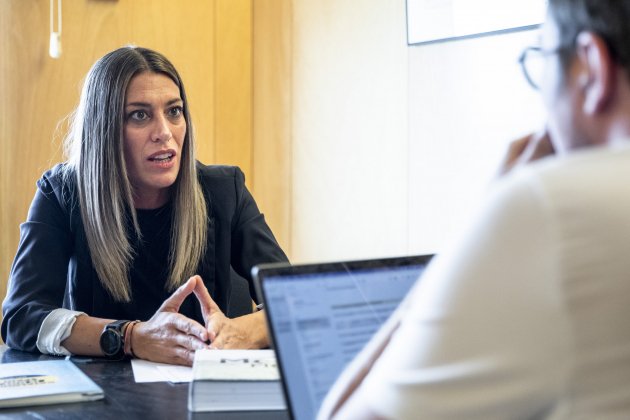 What worries me is that a Catalan party considers voting 'yes' to a reform that says that what we did in 2017 might deserve prison
There is already an unofficial proposal to reduce the penalties for the crime of sedition. What would Junts vote for?
Vote 'what' for 'what'? We have made it very clear: the only democratic option available to the crime of sedition is to repeal it, to eliminate it. It doesn't exist in the democratic countries of Europe. Countries where there is a crime like this, or some similar punishment, are countries with an authoritarian tradition. If the Spanish state, with a government that claims to be progressive, really wants to join the club of the European democracies, it must repeal it. What worries me is that there is a Catalan party that is considering voting yes to a reform that validates that what we did in 2017 might deserve even a single day in prison.
Similar crimes exist in other European countries, such as Switzerland or France. But with much lower penalties.
No. I am convinced that all these countries, if they were to consider doing something today about this offence (which they have not prosecuted in practice), it would be to eliminate it. I am convinced of that. We are always a century behind any other country. If this crime is reformed today, we will be where many countries were a hundred years ago. If there was a far-right government, I could buy a reform. But when we are told that it is a progressive government... I am worried that a Catalan party would consider accepting this. Because it's another trap. It's the same trap as Netflix, the same trap as the solid waste law.
Is ERC ready to endorse it?
I don't know. You would need to ask ERC. I wish we could agree on this issue.
Was the departure of Junts from the Catalan government the right decision?
[Thinks]... What I am very clear about is that Junts is not afraid to do what we have to do, for example here in Madrid. One of the things that has surprised me since we left the Catalan government is that the entire party has lost its complexes. Being in a coalition blurs who you are. Junts now has an opportunity to shape its political profile.
Isn't it cold outside the institutions? Isn't it a more complicated way?
Yes, but that's life! We have to adapt. A decision has been made, there was brutally high participation in the consultation of members and I think that Junts has something that no other Catalanist party has: that it knows how to survive and grow outside of its comfort zone. Today, ERC is in its comfort zone.
President Aragonès is afraid of a confidence question because he knows the result
Junts controlled one of the most important ministries, that of economy, the one that drew up the current Catalan budget project...
Well, the budget was drawn up from the ministry, because we held it, but alongside the party with whom we governed. The "Giró budget" we read about had nothing to do with the budget that was being worked on. Work was being done with a party with whom we don't agree on many things. We would have drawn up a very different budget [alone].
President Aragonès has already ruled out submitting to a confidence vote. Is it still a sine qua non for support of the budget or are you open to other conditions?
He has ruled out the confidence issue and he signed the agreement for that too. We should ask him to clarify. I understand that he is afraid because he knows what the result would be: that he doesn't have the support of Parliament. A president with 33 MPs [out of 135] cannot push anything too far. It was already seen in Parliament last week. ERC needs to show some self-criticism and ask itself why it has been left alone.
Is it possible to put the broken dishes back together?
Of course! I am always optimistic. The thing is that they have to be put back together and we have the responsibility to do it. These are not easy times, but complex times are when the greatest things are achieved.
The Dalmases case is a closed issue. If we had believed that he had to resign as an MP, that would have been decided at the executive. It wasn't
Far from leaving an image of unity, the internal consultation of Junts seems to have given rise to a civil war within the party.
I don't plan to talk about any issues within the party. If there's one thing I can't understand, it's that internal party issues are discussed or gossiped about. It is the only party whose guts people want to get into. People don't want to get into the bowels of any other party. And I wonder why everyone wants to know what's going on inside Junts. In Junts we have an executive direction agreed by almost 100% of members, a political report approved three months ago by almost 100% of members, an organizational report, a sectoral report. Everything we are doing has been approved almost unanimously. Every Monday we leave the executive with the proposals and decisions taken unanimously. When I read "division" or "war"... If you want to look for discrepancies you will find them everywhere, not just in Junts. I'm not here to talk about internal issues.
I have to ask...
I understand and I'm not saying this to stop you from asking me. But I've never spoken about internal party affairs and I won't now. Because I think, moreover, that people are fed up.
I will ask anyway. You speaks of unanimity but on Wednesday itself there was no unanimity at the meeting of the [Catalan] parliamentary group.
I am not in the parliamentary group. I am in Madrid.
You do know the Dalmases case and Magda Oranich's internal report, which is devastating. Is his resignation from party positions sufficient?
We made a decision this Monday, unanimously. The deputy submitted his resignation, the executive accepted it unanimously. The issue is closed.
Don't you think he should resign as an MP?
Issue closed. If we had believed that he had to resign as an MP, that decision would have been taken there. It wasn't. He submitted his resignation, the direction accepted it and it was decided that the issue was over.
So I understand that he will continue as a deputy.
On Monday, the executive made a decision and the issue is over. And I'm not going to give my personal opinion on anything that has to do with internal party issues. I never did and I won't do it now.
Aren't these kinds of behaviours worrying? Two women MPs have also reported it.
I never did and I won't do it now.
We have also seen a Junts national councillor and a close associate of the party president create a fake account on Twitter…
You can ask all the questions you want about internal topics and my colleagues. But I won't answer any of them. I've come to carry out politics, not to do internal laundry for my party or any other.
I think I have to ask them. Do you think these kinds of practices are acceptable?
What practices?
The only ones who have had any complaints about massive numbers of bots are ERC, not Junts.
The behaviour of Dalmases, and creating fake accounts on Twitter to attack colleagues...
The only ones who have had any complaints about massive numbers of bots are ERC, not Junts. When that news came out I don't remember so many people talking about it.
It can be verified that the fake account belonged to a national councillor of the party.
Well perfect. It's just that it seems like such a small thing that we're talking about it.
Don't you think you're giving yourself a bad image?
There are many people who are interested in giving Junts per Catalunya a bad image. It's obvious.
How is this division resolved?
What division? There is no division within the party. Within the executive management, all decisions are taken unanimously.
I understand that you don't see any real risk of a split.
Who talked about that? I don't think it's real. We've just had a congress. And everything was passed by practically 100% of the votes.