After months of closed borders due to coronavirus, a solemn ceremony was deemed necessary to reopen movement between Spain and Portugal. Spanish monarch Felipe VI and prime minister Pedro Sánchez first met with Portuguese president Marcelo Rebelo de Sousa and PM António Costa in Badajoz, before crossing over to the Portuguese city of Elvas. But despite the attempts to stage manage the occasion, the king was unable to avoid criticism from some of his Spanish subjects. Felipe and Letizia's post-coronavirus tour of the kingdom to improve their image has not papered over all of the cracks.
In the background, protesters can be heard chanting "España, mañana, será republicana!" - "Spain tomorrow will be republican." 
It was after receiving the Portuguese authorities in Badajoz, when they strolled along the wall of the Extremaduran city. During this walk, cries such as "Spain, tomorrow, will be republican" were heard, as well as "Royal expenses [should go] to hospitals!" and "Long live the Republic!". Chants expressing an opposite point of view were also heard: "Spain, united, will never be defeated."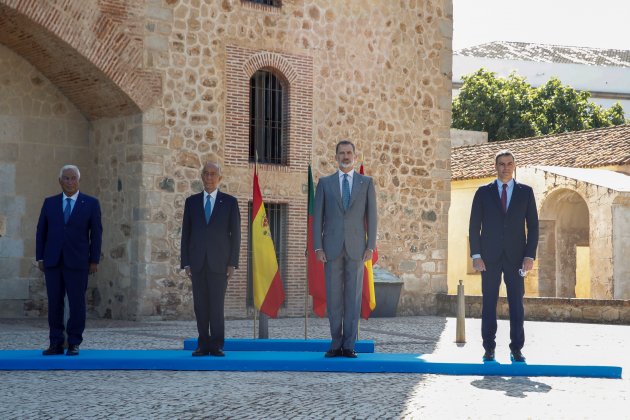 It was at 9:30am in La Alcazaba de Badajoz that the Spanish king and Pedro Sánchez met Portuguese president Marcelo Rebelo de Sousa and prime minister António Costa. From there they crossed to Elvas castle on the other side of the border. The Spanish government said the meeting "is in the context of the lifting of controls on the Spanish-Portuguese border", highlighting the "close collaboration" between the two countries.
"Both countries give enormous value to this joint act, which renews the close Spanish-Portuguese relationship, which contains a broad and deep agenda, with important shared challenges, such as depopulation, the cross-border relationship, the climate emergency, energy and transport interconnections and the EU agenda", said the Spanish executive's statement.
At the end of the state of alarm under which Spain's coronavirus lockdown has been managed, the country's king and queen began a tour to all of Spain's autonomous communities, which will last throughout July and has already taken them to the Canary Islands, the Balearic Islands and Andalusia. The royal tour comes after new revelations in the monarchy's serious corruption scandals, which have led the king to renounce his father's inheritance and take away his financial allowance.
International borders opening "within hours"
Speaking to the media, Pedro Sánchez expressed "immense happiness" to be in Portugal. "We are two fraternal peoples," he said. He also praised the agreement at European level to open borders with fifteen countries outside the Schengen area, and attributed the delay in opening the Spanish borders with these countries to a "technical issue". And he added: "As soon as we can publish it in the state gazette, it will be done. It will be a matter of hours, not days."