Over a hundred boats, from yachts and motorboats, down to inflatables, kayaks and even swimmers took to the water this Sunday at various points on the Catalan coast with a special mission. Bearing Catalan estelada flags, hoisting sails in Catalan colours and waving banners, the sailors and watersport lovers were taking part in a protest action called "Wave for independence", aimed at helping to "internationalize the Catalan issue" and "recover the estelada as a flag that brings people together", according to protest spokesperson David Ferrer.
The organizers estimated that hundreds of people took part in the waterborne protest, at Mediterranean ports from the very north of Catalonia to Sitges, south of Barcelona, with a total of 120 vessels involved. The MEP Diana Riba, partner of Catalan political prisoner Raül Romeva, spoke of the symbolism of the protest at Badalona's Pont del Petroli pier, where several boats and a group of swimmers arrived pulling floating letters that spelt out the word "Freedom". Two of Romeva and Riba's children were among the swimmers.
The event was organised by Sportspeople for the Republic, with support from a number of Catalan pro-independence and pro-human rights groups.
Onada per la Independència 🌊
Ja hi sóm al mar 💪#OnadaxIndependència pic.twitter.com/mOYtGKPSy5

— Clam per la Llibertat 🎗 (@ClamLlibertat) September 8, 2019
👏 👏 moltes gràcies a tothom!!!#OnadaxIndependencia des de Colera, Llançà, Escala, Estartit, Palamós, Blanes, Rebys, Montgat, Badalona, Torredembarra i Lesbos😍😍😍 pic.twitter.com/qp46IJJZMA

— EsportistesxRepublic (@EsportistesxR) September 8, 2019
The boats embarked from many different ports on the Catalan coast, from Colera near the French frontier, taking in the Costa Brava ports of Escala, Begur, Palamós and Blanes, to the Maresme coastal towns of Arenys de Mar, Mataró and Badalona, and also extending south to Sitges.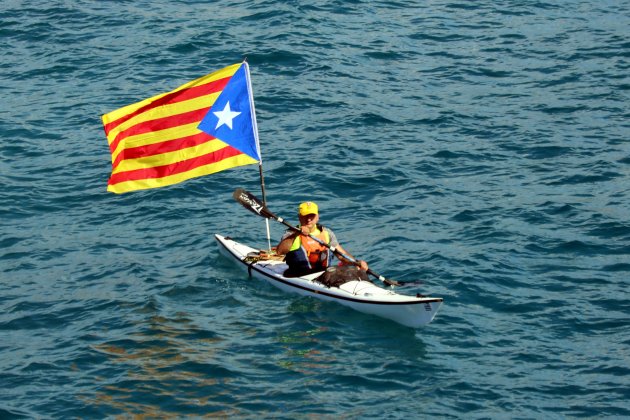 At the Pont del Petroli in Badalona, after swimmers with the letters of the word "freedom" had arrived near noon, European parliamentarian Diana Riba (ERC) read the manifesto. Riba spoke of how the Pont del Petroli was a "very important symbol for swimmers" and that she had found it "very emotional" to see her own children among the swimmers. "The sea has always been a symbol of freedom", she said, also calling for "everyone" to take part in the Diada rally on September 11th to "keep saying that we are still here, still here, and still needing a political project" for Catalonia.
Call to protest on the Diada
The protest manifesto states that "many people feel disenchanted, disoriented", but "others are waiting for leadership to show the way" and for this reason the organizers stress the importance of attending the Diada demonstration on Wednesday. They consider that this is "the least" that people can do given the situation of "more than one thousand unjustly charged", "the stolen, silenced votes, an ill-treated language, and institutions still being suppressed by article 155." "Not one step back, we need you now and always, all of you," read the group's press statement.
Below, further images of the waterborne protest:
#Onadaxindependencia Les veles inflaran i el vent ens portarà cap a la llibertat .. @EsportistesxR #Llibertatpresospolitics #Diada2019 @QuimTorraiPla @KRLS @ConsellxRep pic.twitter.com/7optcNqEdL

— Guldennoi (@guldennoi) September 8, 2019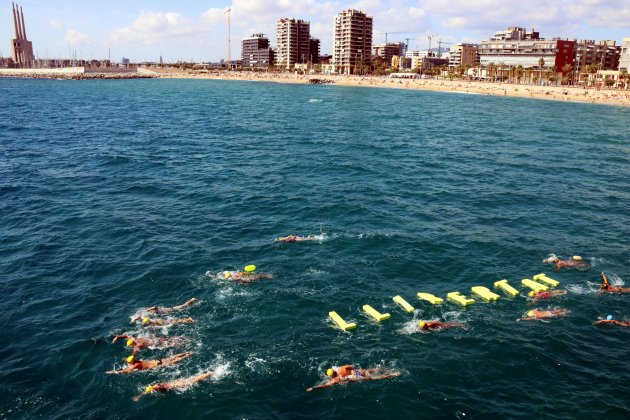 La nostra #OnadaxIndependencia la nostra #Llibertat 🎗 pic.twitter.com/WAAi7h2EUo

— FreeRomeva 🎗 (@FreeRomeva) September 8, 2019