In November 2018, Spain's Court of Accounts ordered the sum of 4.9 million euros (plus taxes) to be paid by former members of the Catalan government Artur Mas, Joana Ortega, Francesc Homs, Irene Rigau and senior officials Lluís Bertrán, Josefina Valls, Ignasi Genovès, Jordi Vilajoana, Jaume Domingo and Teresa Prohías for the organization of Catalonia's Consulta, the unofficial independence referendum held on 9th November, 2014. Seven years after that vote, those responsible are still paying the consequences, with their property having been seized and their lives stopped due to disqualification from holding public office.
In an interview on Catalan public channel TV3 this Tuesday, former education minister Irene Rigau described the harshness of these sentences for the former officials and their families and said that this is part of the Spanish state's strategy to try to "turn down the flame of independence". "We have put ourselves in debt. [Former Spanish deputy PM] Sáenz de Santamaría warned that we would pay for it. They want to scare the families so that no-one will get involved in politics and people will stop committing themselves to this project. It is a warning for people who might think of setting out," she said.
The Solidarity Fund has paid about two million euros of the sentence, and the rest has been taken by confiscating property from those convicted. The sentence details that, although former president Mas is ultimately responsible for the total of nearly five million euros, each of those found guilty is considered directly responsible for certain amounts based on the powers and responsibilities they assumed for the Consulta. Rigau called for further contributions to the Solidarity Fund, which has also been covering many of the amounts demanded from the political prisoners of the 2017 referendum.
"We have to be very grateful to all the public servants who stepped onto territory that was not solid and took responsibilities," she said.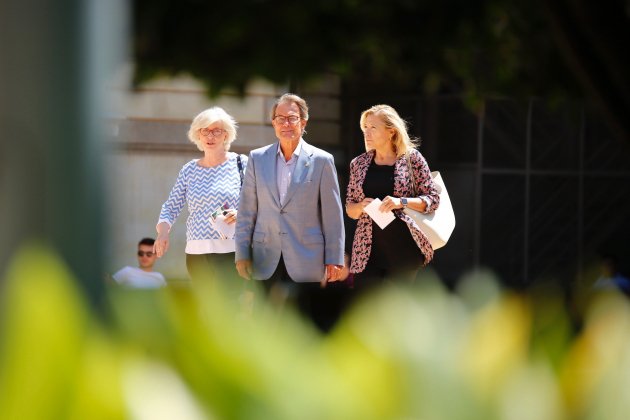 "Revenge"
The Court of Accounts, which is the Spanish administrative body responsible for auditing public spending, is pursuing several cases related to those responsible for the independence process and Rigau warned that the semi-judicial organ forms part of the state's weaponry in its ongoing efforts against the independence movement. In her view, it uses "related bodies" such as anti-independence groups Societat Civil Catalana and Advocats per la Constitució to attack them, and will continue to do so against current politicians. "The state decided to act against us and activated all its resources. Organizing a participatory process was our responsibility, but they didn't like the result, because a lot of people took part. I did not receive any notification, but the state activated it against everyone. It is the representation of 'Go get 'em'", she said, referring to A por ellos, "go get 'em", a line sung by Spanish police in 2017.
Appealing the sentence
Those found guilty of playing roles in the 2014 vote appealed the sentence to the Constitutional Court, considering that the court's decision was "very far from impartial", and indeed was intended to give out "a lesson" for all those who involved in the Consulta. So far, only Francesc Homs's appeal has been resolved, negatively. Thus, the judicial route for Homs in Spain has been exhausted and his case can be taken to the European Court of Human Rights, a point which all of the convicted 2014 officials are expected to reach.