Catalan foreign minister Victòria Alsina has met with representatives of the United Nations in Geneva this Friday to discuss the judicial and political situation in the Spanish state. "We emphasized that, despite the fact that, formally, there is a negotiating table, the repression continues," she said. Among several meetings held, she met with representatives of the United Nations High Commission for Human Rights to discuss "the need to protect and defend human rights in our country." "Unfortunately, we have examples every day that show this," lamented Alsina, who recalled the arrest this week of former deputy speaker of the Parliament of Catalonia Josep Costa.
Legitimate foreign action
Alsina also highlighted "the continued persecution of the government's foreign action", a government competence that she insisted is "completely legitimate". For the Catalan minister, the legal process opened in Barcelona court number 18 and the case in the Court of Accounts against Catalan foreign action between 2011 and 2017 "show that it is not respected that the Catalan government exercises competence which is recognized by Catalonia's Statute of Autonomy itself".
"As a representative of the government, and as foreign minister, it is my duty to stand up for this protection of human rights in the international sphere and Geneva is a key city," she said. Apart from the situation in Catalonia, with constant state repression, Alsina also addressed other issues such as the refugee situation and the migration crisis. 
An eye on Catalonia
Friday is the final day of the foreign minister's three-day trip to Switzerland, where she has met with a range of political and multilateral agencies present in Geneva, from the UNHCR and WHO to the vaccine agency GAVI and leaders of Swiss authorities. Alsina held meetings accompanied by the Catalan government delegate in Switzerland, Gabriel Boichat; the government's foreign affairs secretary, Gerard Figueras; and the director general for development and cooperation, Josep Desquens.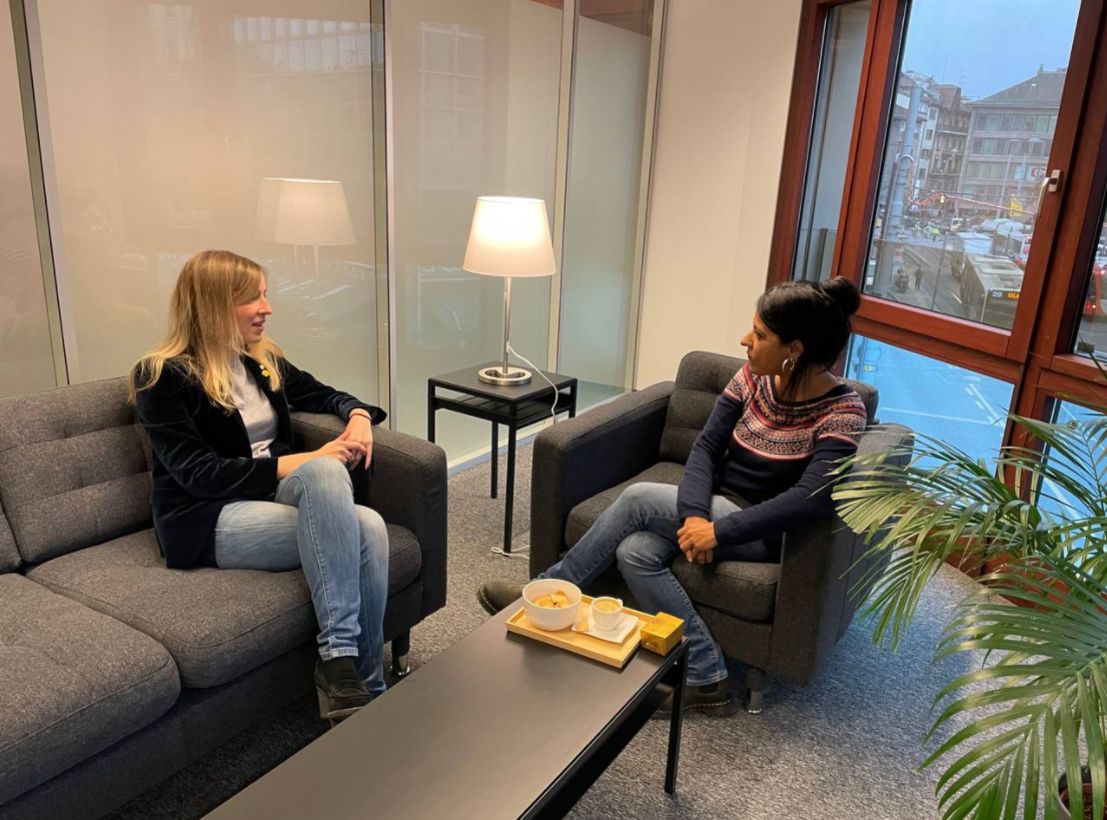 After this week of meetings, Alsina valued "very positively" the meetings held throughout the trip. "They listened to us very closely and encouraged us to keep them informed," said Alsina, referring to the development in relation to Catalonia's situation. The minister emphasized that "both from the Swiss political sphere and from the human rights mechanisms in Geneva themselves, they have an eye on what is happening in our home".
Tribute to Casals
In Geneva, Victòria Alsina was able to meet with both Anna Gabriel and Marta Rovira, both exiled in the Swiss city since 2018. Yesterday, on behalf of the Catalan government she attended the tribute to legendary Catalan cellist Pau Casals, performed by the Casals Quartet. In a message shared on social media, the minister wanted to "thank Switzerland for defending democracy, freedom and fundamental rights, both then and now."
🔴 @_VictoriaAlsina: "Perseguits pel franquisme, molts catalans van trobar refugi a Suïssa, que es va situar al costat de la democràcia, la llibertat i els drets fonamentals, com ha fet acollint @martarovira i @AnnaGaSabate. En nom del @govern, gràcies per ser-hi, llavors i ara" pic.twitter.com/Zabe89TkH9

— Exteriors Catalunya (@exteriorscat) October 28, 2021
Translation of tweet:
"Persecuted by the Franco regime, many Catalans found refuge in Switzerland, which stood on the side of democracy, freedom and fundamental rights, as it has done in welcoming Marta Rovira and Anna Gabriel. On behalf of the Catalan government, thank you for being there, then and now" - Victòria Alsina