Carles Puigdemont. He's been called everything from "leader of the Catalan resistance" to "Spain's public enemy number one". He's also been called a few other strange things by people who mispronounce his surname. It's putch-da-MON [pudʒðəˈmon]. And now, this politician from Catalonia is running for a place in the European Parliament and is back in the headlines. 
Who and where is Carles Puigdemont?
Puigdemont was the president who led Catalonia into the 2017 referendum on independence from Spain, then went into exile in Brussels along with several other members of his government. Since then, as the crisis between Catalonia and Spain has continued, he's maintained a high profile in his adopted role as Catalonia's president in exile, based in Waterloo, near the Belgian and European capital.
His protagonism in the issue began in 2016, when he became president of a Catalan government elected on a mandate of moving Catalonia towards independence, via a referendum. Spain refused to discuss the matter and banned the vote, but under Carles Puigdemont's leadership, it went ahead anyway on October 1st, 2017, and was violently repressed by Spanish police. Catalonia then declared its independence on October 27th, 2017 - on the same day as the Spanish government imposed direct rule over Catalonia, sacking the Catalan president and his government.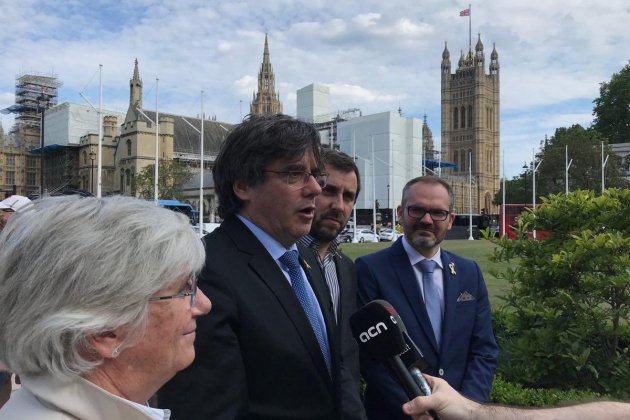 In the political and judicial backlash that followed - and has continued ever since - Puigdemont began to play a new role: from his exile in Brussels, he was able to speak out freely and has become a thorn in the side of the Spanish government. Others who had led the independence push and remained in Catalonia – like vice president Oriol Junqueras - were jailed, accused of crimes including sedition and rebellion, and largely silenced. Spain attempted to extradite Puigdemont and his colleagues, but European judges shook their heads at the propriety of the charges. Finally, after a German court rejected the rebellion accusation against Puigdemont, Spain dropped its extradition claims. The exiled Catalans are currently free citizens in Europe - although not in Spain.
Like most Catalans, Puigdemont is solidly but not uncritically pro-Europe, both in general political terms, and specifically in the quest to solve the deadlocked Catalan conflict. His move to run in the 2019 elections to the European Parliament (along with fellow Catalan exiles Toni Comín and Clara Ponsatí on the JxCat party list) was at first vetoed by Spain's Central Electoral Commission – an action by a supposedly neutral body which seemed to highlight Spain's "democratic deficit".
Now, with the polls saying that Puigdemont is likely to be elected as an MEP, the exiled president's role as an international voice for the Catalan cause may move inside the European institutions. First, though, there is another challenge, as Carles Puigdemont will be required to return to the Spanish state briefly for the formalities of accepting his new post. His lawyers argue that he will have EU parliamentary immunity to do so without any risk of Spain arresting him. But the matter of how Spain, Europe and Puigdemont himself respond to this may be the next contentious question to hit the headlines.