Sílvia is in no doubt. The Catalan independence demonstration held this Thursday in Brussels "has to mark a turning point". She gives this opinion the day after the march which drew 45,000 people to the capital of Belgium, to call for freedom for the imprisoned Catalan leaders, to show support for the Catalan government in exile and to demand a reaction from Europe.
Having rested after the long journey by road from Catalonia, and from the fatigue of the march itself, marching through the streets of the city's European district on a cold autumn day, Sílvia considers that the show of strength was "stirring" and confesses that a reasonable turnout was expected but "not as many as actually came". "It was really worthwhile", she declares with satisfaction at the doors of her hotel in Liège, where she has stayed the night before beginning the trip back to Barcelona.
The morning after provided a chance to visit this Walloon city, stroll through the Christmas market set up in the city centre and buy some souvenirs - but also to reflect and comment with other demonstrators on how the Catalan march turned out.
Fellow marcher Angels didn't expect such a huge crowd either and says she is "very happy" about how it went. In fact, she considers it a real "success". On the possible repercussions, however, she is not so clear. She does believe, though, that it is a way of "exerting pressure" and demonstrating to Catalonia's political representatives that they "are not alone". "This thing is not going to stop, we're still going", she says.
Albert, on the other hand, believes that Thursday's demonstration "will be useful". "Juncker will not change, but the people at the grass roots may", he asserts, while defending that the process is "a long-term job". "We might even manage to change Europe in the end", he suggests hopefully.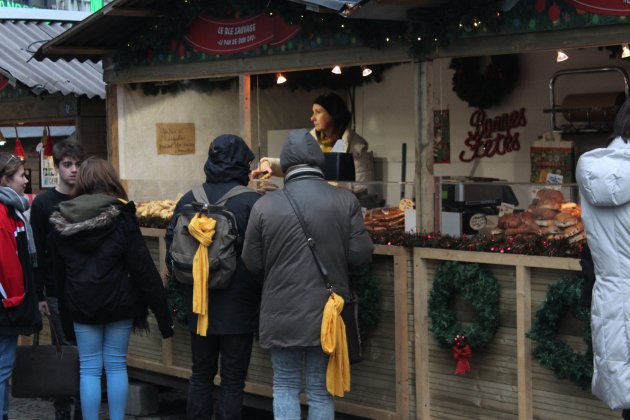 Another marcher, Lola, also has a mixed opinion. Her view is that Thursday's demonstration was "very impressive" and she declares that she is "very happy to have come to show our unity and support. However, she recognizes that she "no longer expects anything from Europe". Lola is disappointed with the European institutions but assures that they "can't rebuff us like this, sooner or later the bubble has to burst and make things move forward".