Austrian newspaper Der Standard has stated that the candidacies of Catalan pro-independence politicians Carles Puigdemont and Oriol Junqueras in the upcoming European elections "make Catalonia a European issue", due to the repercussions it will have.
The newspaper asserts that Puigdemont and Junqueras - respectively, exiled president of Catalonia and his deputy, jailed and currently on trial - will not in the end become MEPs. However, the Austrian daily points out that the crucial point is not this, but rather, that what is occurring is "an internationalization of the conflict, just as they say."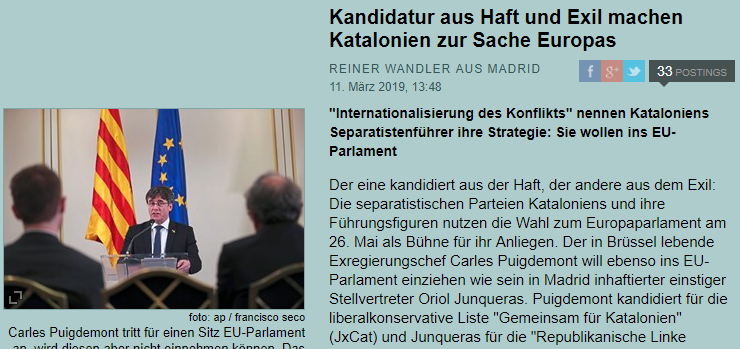 Der Standard also recalls that the "hard line" maintained by Puigdemont has triumphed in his political grouping JxCat (Together for Catalonia), and that this will have consequences in Spanish politics. He also notes that Junqueras's party ERC (Catalan Republican Left) has partnered with the Basque left-wing independence party Bildu and will back the right to self-determination. The newspaper's prediction is that recognition of self-determination as a right will be the "minimum red line" for the Catalan pro-independence parties, and that the recent tension with Spain's currently governing PSOE, under Pedro Sánchez, might be repeated.
"They voted against the budget of Pedro Sánchez after he refused to open dialogue on a future independence referendum, and the Socialists were thus defeated. This scenario could be repeated. Although the polls predict an electoral victory for Sánchez, he will need the votes of the left-wing Podemos-IU, as well as those of the Basque and Catalan parties to obtain a parliamentary majority. If that's what happens, the self-determination question will be on the table again," he says.