The news today that the four imprisoned Catalan politicians elected to Spain's Congress in last month's general election have been suspended from their seats​ has been widely reported on around the world.
British newspaper The Financial Times
The FT notes that the decision has been "cheered by rightwing Spanish legislators who are extremely hostile to Catalan independence" and suggests that it "could further damage Socialist prime minister Pedro Sánchez's already strained relationship with the Catalan separatist parties".
Four Catalan MPs suspended from Spanish parliament https://t.co/wg7yDHKjIb

— FT World News (@ftworldnews) 24 de maig de 2019
French newspaper Le Monde
Le Monde says the decision could have "important political consequences" and that it could make Pedro Sánchez's path to being reinvested prime minister easier, lowering the number of votes he needs.
Via @lemondefr: "Quatre députés catalans emprisonnés suspendus par le Congrès des députés espagnol": https://t.co/y0Q0YjJnLp …

Et tant pis pour les 1,5 millions de personnes qui ont voté ces députés le 28 avril. Montesquieu, c'est qui celui-là?

— Daniel Camós (@daniel_camos) 24 de maig de 2019
European network Euronews
In a report available in 7 languages, Euronews recalls that the prisoners were authorised by the Supreme Court to attend the opening of Congress earlier this week.
Via @euronewsfr : Le parlement espagnol suspend quatre députés catalans indépendantistes poursuivis en justicehttps://t.co/mXiek1FJ6a

— PARIS TOUR EIFFEL NEWS 🇫🇷🇪🇺⭐⭐⭐⭐⭐ (@Karkouch3) 24 de maig de 2019
German international public broadcaster Deutsche Welle
Deutsche Welle suggests that "in a fractious assembly, the ruling could work in the favor of acting Prime Minister Pedro Sanchez".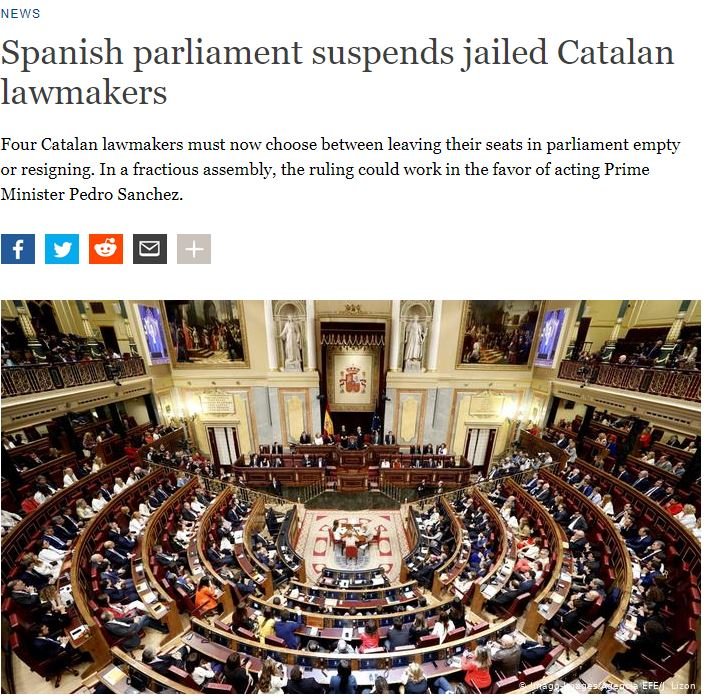 French news agency Agence France-Presse
AFP dedicated a breaking news tweet to the story.
#BREAKING Spanish parliament suspends four jailed Catalan MPs pic.twitter.com/RWhvewm4w6

— AFP news agency (@AFP) 24 de maig de 2019
US news agency Associated Press
The AP also interview Junqueras by videolink from prison and discuss him and Carles Puigdemont standing in this week's European Parliament election.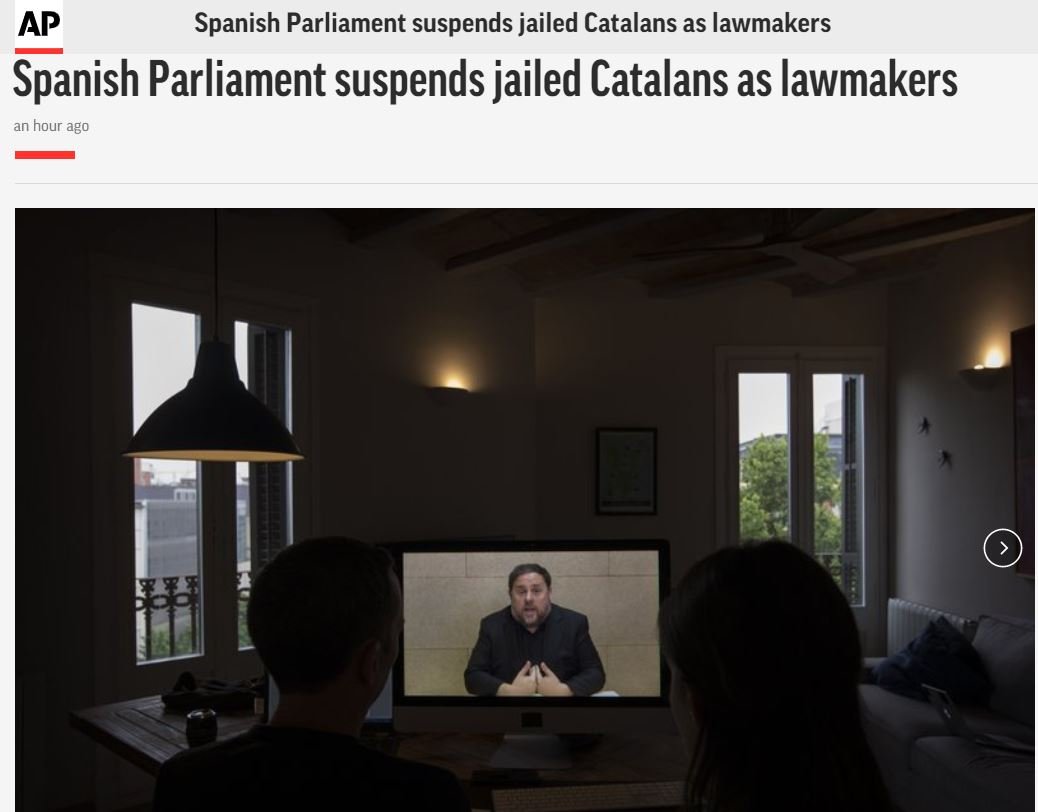 British news agency Reuters
Reuters say that the independence push in Catalonia has "overshadowed Spanish politics for years and is a major test for Pedro Sanchez's Socialists".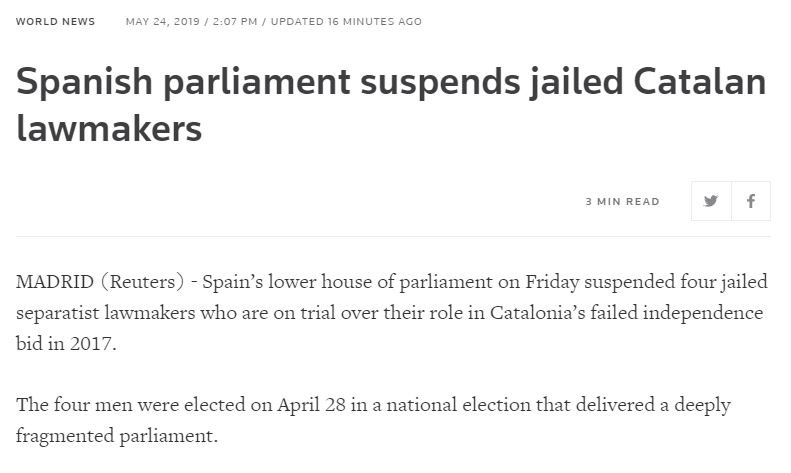 Swiss French-language newspaper Tribune de Genève
Tribune de Genève also looks at Junqueras and Puigdemont's candidacies to the European Parliament, both of them "hoping to be elected MEPs to be able to denounce in the European Parliament the Spanish state which they accuse of not being democratic".
Quatre députés catalans élus en prison suspendus https://t.co/XOyIZtCTMk

— Tribune de Genève (@tdgch) 24 de maig de 2019
Quebec French-language newspaper Le Journal de Montréal
Le Journal de Montréal says that "these four pro-independence deputies, and a senator who should also be suspended, briefly left prison on Tuesday to take their seats during the Parliament's inaugural session".
Le parlement espagnol suspend quatre députés catalans élus en prison | JDM https://t.co/qJwdR0CS7O

— Michel Guenette (@MichelGuenette3) 24 de maig de 2019
Canadian English-language newspaper The Globe and Mail
Spanish parliament suspends four jailed Catalan lawmakers https://t.co/eS2NYk3Zmn pic.twitter.com/5K4WNpuvAE

— The Globe and Mail (@globeandmail) 24 de maig de 2019
US broadcaster Fox
MADRID (AP) -- Spanish parliament lower chamber suspends Catalan separatist lawmakers jailed pending rebellion trial. #GoodDayDC

— FOX 5 DC (@fox5dc) 24 de maig de 2019