The Catalan independence movement has made a new show of strength in Europe. 18 months after the large-scale demonstration in Brussels, some 10,000 protesters, according to French police, had travelled to Strasbourg by some eighty coaches, three special flights and other indeterminate means. They gathered this Tuesday in front of the European Parliament to express their opposition to Carles Puigdemont, Oriol Junqueras and Toni Comín being prevented from taking the seats they won in May's election.
The rally, which lasted almost five hours, ended with speeches organised by the Catalan Council for the Republic. Those who spoke included members of pro-independence organisations and from MEPs from around the continent.
As their lawyers feared they could be arrested, Puigdemont and Comín didn't attend in person, but could speak via video from the German border. Similarly, a letter by Junqueras from prison was read out.
The three decried what they said was the violation of their political rights, asked Europe to no look aside and warned them that the independence movement isn't giving up despite the repression: "We'll do it again".
Exile and imprisonment as weapons
Speaking from a bridge on the Franco-German border, Puigdemont argued the importance of him being able to continue the fight from exile, for which he apologised for his absence. He also thanked the thousands who had travelled to Strasbourg for their commitment, saying they are "the proof of their failure and our success".
Comín, with the president in Kehl, made similar remarks. He said that democracy is under threat in Spain and, as such, in the whole of Europe and that they will continue to be a "free voice" from exile.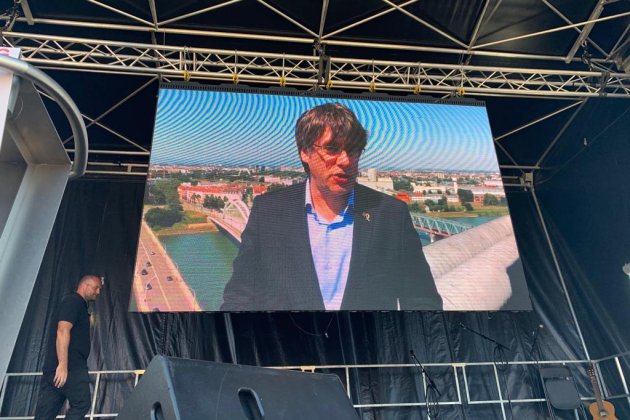 Finally, Oriol Junqueras, writing by letter from prison, said that if the price he has to pay is the loss of his freedom, he'll pay it. He argued that Catalonia can be the "spearhead" for the future of Europe, and called on the continent to not look the other way.
Among the pro-independence leaders there, ANC's Elisenda Paluzie said that it won't be easy to achieve their goal, and that the "battle" must be won in Catalonia: "We will win independence ourselves, no one will give it to us". Marina Llansana, of Òmnium, meanwhile, said that "no sentence, however severe it may be" will make them give up: "We'll do it again, each and every one of the crimes they tell us we've committed".
MEP support
More than 20 MEPs attended from various countries, members of the EU-Catalonia Dialogue Platform. They all denounced the situation where Puigdemont, Comín and Junqueras couldn't take their seats alongside them in the Parliament today.
Among them were Matt Carthy from Ireland, who had already brought up the matter inside the chamber, and Marisa Matias from Portugal. Matias said: "We won't leave you alone, we won't shut up, until victory, for sure". Noting the coincidence that Portugal gained its independence when a different Felipe was in power, she said that "even today we have an oppressor Felipe".