The Spanish king's brother-in-law Iñaki Urdangarin, imprisoned for fraud, embezzlement and tax evasion, has been granted Christmas leave to spend with his family. This is echoed by the British newspaper The Sunday Times, in a news story which paints an "upstairs, downstairs" picture of Spanish justice.
The paper contrasts Urdangarin's four-day leave, and his relatively open prison regime, with another prisoner who will remain behind bars these holidays: pro-independence politician Oriol Junqueras, leader of the ERC party and former Catalan vice president. Sentenced to 13 years' jail for sedition in October, Junqueras will already be spending his third consecutive Christmas imprisoned this year. And this, despite last week's EU court ruling saying, as the paper reports, that he "had parliamentary immunity as he was elected an MEP last May and should have been freed from jail."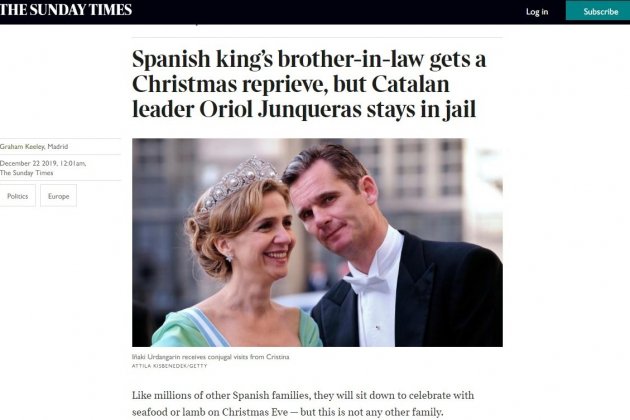 Urdangarin was jailed in June 2018, to begin serving a sentence of 5 years and 10 months. "He had used his royal connections to secure contracts for sporting and other events, siphoning off 6 million euros (£5 million) in public money," says the newspaper. On Tuesday night, though, he will able to sit down to a Christmas Eve meal with his family.
"It seems there is one law for a member of the royal family and another for someone who has done no wrong except organizing a referendum," ERC spokesperson Raul Murcia told The Sunday Times.