Minister Íñigo Méndez de Vigo ordered this Tuesday, with the power of his role as Culture minister, the return of artworks to the Sixena Monastery in Aragon. This has awoken the demands of another old conflict: the Salamanca papers. These are a large collection of papers taken from Catalonia at the end of the Civil War and later stored in the General Archive of the Civil War. After a campaign, between 2005 and 2014, hundreds of thousands were returned to Catalonia. Now there is a counter-campaign for the documents which have not been returned to their original owners or their descendants to be sent back to Salamanca again.
The "Save the Salamanca Archive" association has, in the suspension of Catalan autonomy, seen an opportunity to again claim the return of documents held in Catalonia. The request, however, doesn't end there, as the entity has started a campaign under the motto "Puigdemont to prison. The documents to Salamanca".
Via their website and social media, they are asking for financial donations to get the documents and, in passing, they ask for Catalan president Carles Puigdemont to be sent to prison.
https://t.co/OyW7c3gC4d SOS SOS SOS ¡Ayúdanos a conseguirlo!

— Archivo de Salamanca (@SalvarArchivo) 10 de novembre de 2017
Before the election
Besides the fundraising, the association's president, Policarpo Sánchez, will this Friday send a letter to the Spanish deputy prime minister, Soraya Sáenz de Santamaría, calling for the return of the 400,000 archive documents which the Catalan government has "illegaly in its power".
They ask for the papers to be returned to Salamanca in less than a month, suggesting a deadline of 21st December, the day of the Catalan election. As such, it's also the day article 155 will have to be lifted to allow the formation of a new government.
Sánchez claims that mistakes were made during the transfer to Catalonia and that a large proportion of the documents do not belong to Catalan families and cannot be delivered to "those who were never their owners".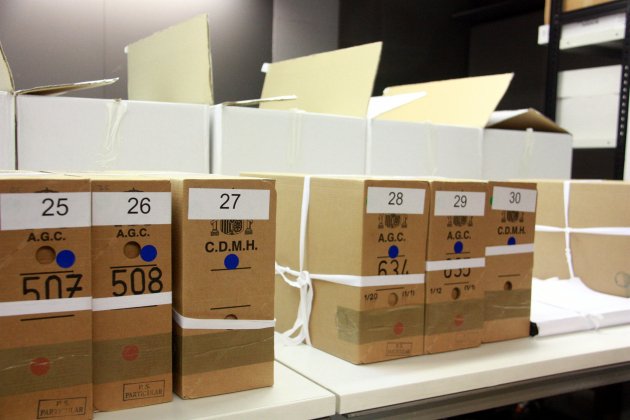 The ministry asks the same
Those asking for the papers' return have ways to achieve it. Since 2015, the Spanish government has been calling for the documents which haven't been returned to their owners to be returned to the General Archive in Salamanca.
The demand was led by the ministry for Education, Culture and Sport, now led by Méndez de Vigo, and supported by Salamanca's mayor, Alfonso Fernández Mañueco and local senators. They asked for the Catalan government to accept a sentence by the Constitutional Court to return the documents pertaining to people who they haven't managed to locate or who don't have any known descendants.
Now, the ones who have the power to decide in the Catalan government is the same Spanish government which claimed them. It remains to be seen how the deputy PM will react to the petition from Salamanca.