It's all very different to just a few months ago. On Sunday, acting prime minister Pedro Sánchez saw his gamble backfire. After weeks of fruitless negotiations and criticism back and forth over the summer, now it's taken just 48 hours for PSOE's Sánchez and Unidas Podemos's Pablo Iglesias to sign a preliminary agreement for a coalition government. The red line to Iglesias joining the cabinet is just one of those to fall. Instead, they both smiled while shaking hands and even hugged.
The agreement has ten points, one of which is dedicated entirely to Catalonia. They say they want to "guarantee social harmony in Catalonia and the normalisation of political life." They promise to "promote dialogue in Catalonia, looking for formulas for understanding and coming together, always within the Constitution", and add that they will "guarantee equality between all Spaniards".
In a very different tone to that which he used during the previous negotiations, Pedro Sánchez said he is "hopeful" about the preliminary agreement and thanked Iglesias for his "generosity and responsibility". "The Spanish people have spoken and it's up to us to translate their will and to overcome the blocked situation", he said, admitting the "disappointment" of left-wing voters.
The acting prime minister said he will form an "emphatically progressive government" and that the agreement is for "four years based on cohesion and loyalty". He said they will bring in the "most suitable profiles" from both parties, but that they will be open to other parties too. Tomorrow they will start talks with the other parties. "The Spanish people have voted and their votes indicate the only path, the one we're starting along."
For his part, Pablo Iglesias said that "April's historic opportunity has become a necessity", and that they now have to put behind them "any criticisms" there might have been. He wants to use "PSOE's experience and Unidas Podemos' courage" for this progressive executive. He promised "dialogue to confront the territorial crisis and social justice as a vaccine to the far right."
The Podemos leader said they have a "historic task ahead" for which they are looking for support from the other parties in the Congress to enable a government to form and the legislature to last. "Pedro Sánchez knows that he will be able to count on all our loyalty," he said. On the agreement specifically, he added that "over the next few weeks we will work on all the details; we ask you to be calm."
The arithmetic
Today's announcement is far from a done deal. Even if PSOE and Podemos do turn this into a formal agreement, they still need to get it through the Congress. Between them, they have 155 seats; an absolute majority would need 176. There is the possibility they could form a government with less support if another party or parties abstain.
For the moment, BNG (1 delegate), Coalición Canarias (2), PNV (7), Más País (2) and Més Compromís (1) have said they are prepared to vote in favour of the coalition. That would get them to 168 seats. Catalan pro-independence party ERC (13), on the other hand, have said that "right now our position is 'no'" and that "if they want something, they need to sit down and talk".
For their part, Cs (10) have said they would prefer a "moderate and constitutionalist" agreement between PSOE and PP, that they "cannot give support" to a government which is "disastrous and contrary to the interests of the majority of the Spanish people".
The 10 points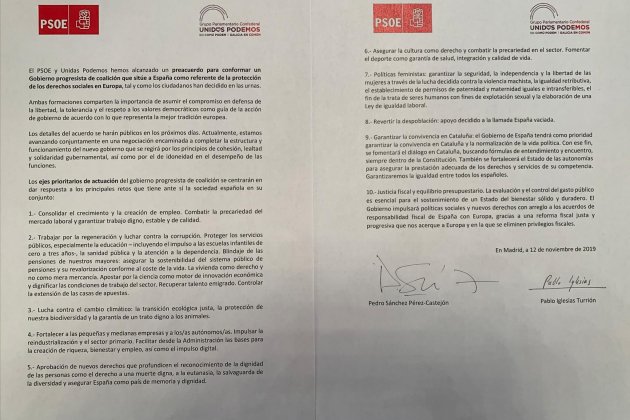 The 10 "priorities" the parties agreed on today are, in summary:
To consolidate growth and job creation.
To work for regeneration and fight against corruption. To protect public services (especialy education and health), pensions and the right to housing.
To fight against climate change.
To strengthen small and medium-sized businesses and self-employed people.
To approve new rights which deepen the recognition of peoples' dignity, like the right to a decent death and euthanasia.
To secure culture as a right and combat job insecurity in the sector. To promote sport as a guarantee of health, integration and quality of life.
To guarantee women's safety, independence and freedom by fighting violence against women, to establish equal paternity and maternity leave and to end human trafficking.
To reverse depopulation and support the "so-called empty Spain".
To guarantee social harmony in Catalonia.
Fiscal justice and a balanced budget.