A neighbourhood mobilization in Glasgow that succeeded in preventing the detention of two men on Thursday by a UK immigration enforcement team has become a social media trending topic and been hailed as a victory for people power. However, in videos of the action, lawyer Aamer Anwar can be seen in the van talking to the two men whom the immigration officers sought to detain. It prompted Catalan MEP Clara Ponsatí to point out to him that, in Spain, this action could have been punished with between nine and 12 years in prison.
Ponsatí addressed her comment, on Twitter, directly to Anwar, who is also her lawyer, reminding him that the action he took - assisted by hundreds of others in the Pollokshields street - is regarded as "sedition" in Spain, and could lead to a long prison sentence:

The Jordis, sentenced to nine years in prison
Clara Ponsatí's statements were referring to the convictions of the pro-independence activists, Jordi Sànchez and Jordi Cuixart, sentenced to nine years in prison for the events surrounding the 1st October independence referendum in Catalonia.
On September 20th, 2017, the two now-imprisoned leaders were the protagonists in images very similar to those of the Scottish lawyer: they mediated between police and protesters, and standing on top of Spanish Civil Guard vehicles, called off a rally.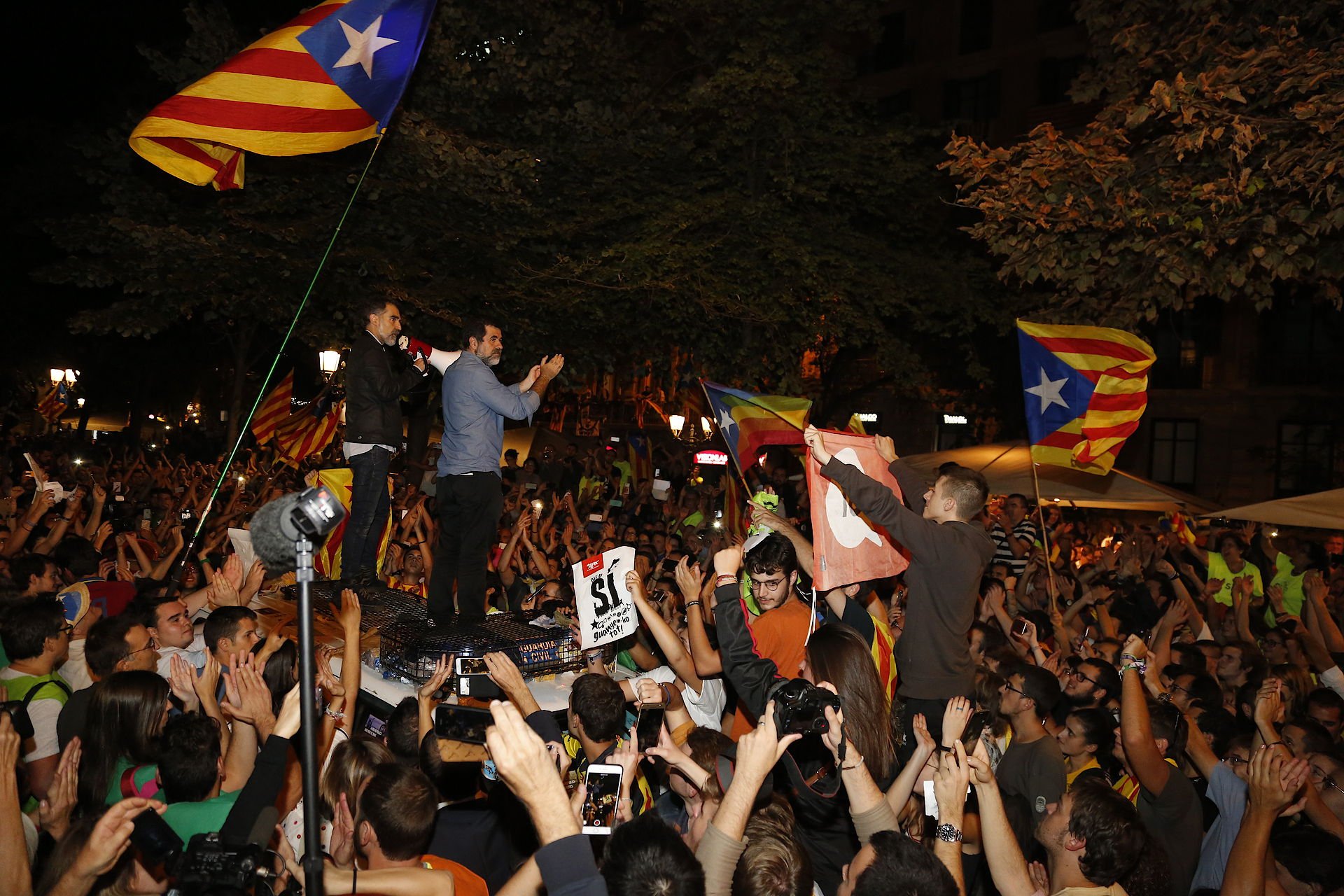 They received nine-year sentences for these actions, judged to constitute sedition by the Supreme Court. Catalan vice president Oriol Junqueras received a 13 year sentence, while another six pro-independence leaders received between 10 and 12 years' jail, all with sedition as their principal offence, for their roles in the referendum and events surrounding it.
10 years living in Scotland
For hours on Thursday, hundreds of people surrounded the police operation deployed in Glasgow's Pollokshields district, blocking the road to prevent the departure of the vans in which the two detained men were held.
"These are our neighbours, let them go" or "Cops out of our neighbuorhood" were among the chants which the assembled local residents bellowed at the police, who finally let the two men out of the van "with the objective of ensuring safety", they said in a statement.
The two men, Sumit Sehdev and Lakhvir Singh, are originally from India and have lived in Scotland for 10 years. Speaking to ITV, Lakhvir Singh thanked the community mobilization for preventing his detention. "I am very happy that fate brought me to Glasgow," he said.