It's a good trivia question: which national anthems have no lyrics? Well, Bosnia and Herzegovina, Kosovo, San Marino and Spain. And, as far as Spain is concerned at least, that list doesn't look set to change any time soon. Even with attempts like that from singer Marta Sánchez last year. Her lines, like "my love grows every time I leave, but don't forgotten I don't know how to live without you", "red, yellow, colours which shine in my heart and I don't apologise" and "I love you, Spain, [and] I thank God for having been born here", haven't caught on.
The Spanish anthem did have lyrics in the past, however, for example during the reign of Alfonso XIII. But since 1978 it has been silent, or at most sung "lo lo lo". The best-known set of words were used during the Franco dictatorship, but for obvious reasons those have generally been left to gather dust since the transition to democracy.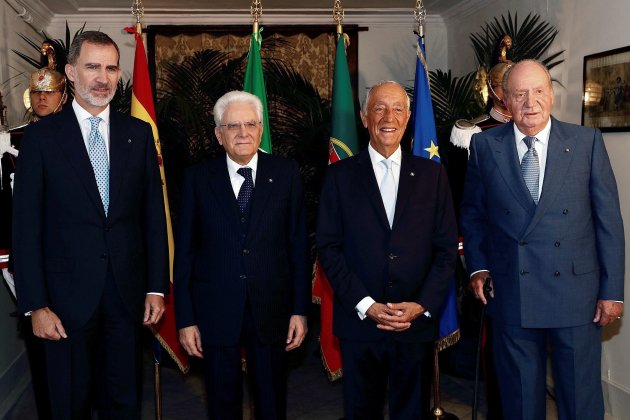 The Cotec Foundation is a non-profit founded in 1990 in Spain "to promote innovation as an engine for social and economic development" which has since expanded to Italy and Portugal. Its honorary president is the current Spanish king, Felipe VI. He was at the Cotec Europe Forum in Naples today, alongside his father, king emeritus Juan Carlos I, the president of Italy, Sergio Mattarella and the president of Portugal, Marcelo Rebelo de Sousa.
The leaders were all in the Teatro di San Carlo, in the royal box when, suddenly voices start singing: "Long live Spain, raise your foreheads, children of the Spanish people which is resurrected again Glory to the homeland which knew how to follow the course of the sun over the blue of the sea". The Sanitansamble youth orchestra and a children's choir, move from the European anthem to those of the three member states represented there. And they start with Spain, but not the official, current version, but the one with lyrics penned by José María Pemán for Primo de Rivera before the Civil War.
Restrained applause. The monarchs have put on their practised poker faces and an embarrassed Italian president apologises to them: "It was a mistake by the event's organisers". A senior theatre official doesn't know where to hide. Sometimes, perhaps, it's better to stay silent.