Tens of thousands of women, as many as 200,000 according to Barcelona's Urban Guard, have filled Gran Via avenue in the Catalan capital for International Women's Day. The demonstration started at plaça Espanya and ran along Gran Via to plaça Catalunya, where a manifesto was read and there were a variety of musical performances, under the motto "we're stopping in order to change it all".
The march, organised by a group of unions, associations and political parties, demanded equality and vocally opposed the continuing existence of sexism for more than two hours. Participants shouted slogans like "without women there is no revolution", "the streets will be feminist" and "long live the feminist fight". There was also a wide range of signs, bearing messages like "together we're stronger" and "the revolution will be feminist or it won't be".
There were also notable posters calling for the release of the female Catalan political prisoners and the return of the female exiles.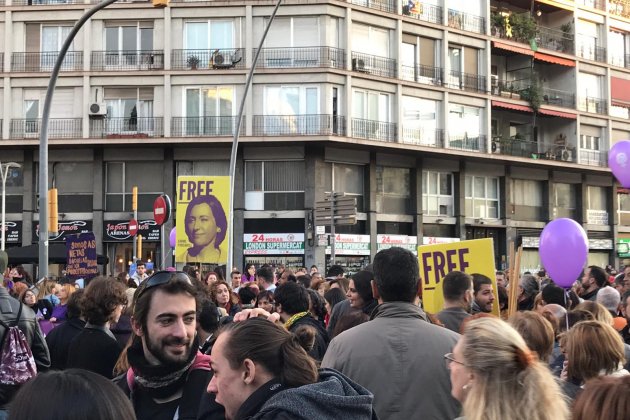 During the demonstration, there were also a wide range of flags and banners from, for example, students' unions, immigrants groups and anti-capitalism and anti-patriarchy activists. Many protesters took the opportunity to defend sexual freedom and to remember all the victims of gender-based violence and sexism.
Among those to take part in the march were the mayor of Barcelona, Ada Colau, all the female ministers of the current Catalan government, and the Spanish minister of territorial policy, Meritxell Batet.