German media are looking on Spain with concern and astonishment. If yesterday it was the country's leading newspaper, Frankfurter Allgemeine, which spoke of a "risk of catastrophe" in the Spanish state (link in German), today it is the most watched TV news show, Tagesschau, which has been severely critical of Spain, reporting the high degree of political tension at a time when a huge economic and social crisis is unfolding due to the coronavirus pandemic.
These observations coincide with the agreement by German chancellor Angela Merkel and French president Emmanuel Macron to allocate 500 billion euros from the EU to help the southern European economies hardest hit by the coronavirus crisis.
The report carried by German television news today gave a depressing verdict on Spain. Entitled "No signs of cohesion", it examined the political division which besets the country and noted that this was not occurring in any other EU member state. It recalled that the Bank of Spain predicts a fall of 12 per cent in Spanish GDP this year, and that it has called for structural reforms and budgetary consolidation "that will require a political agreement that lasts for several legislative periods."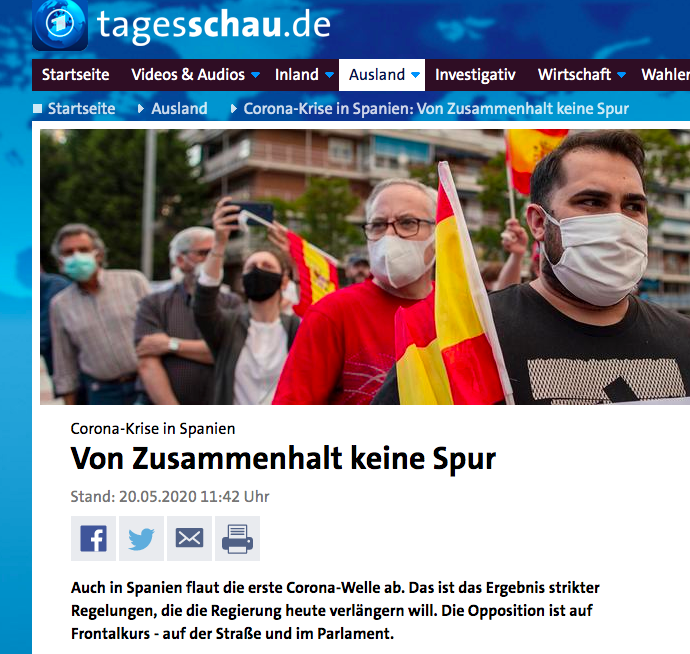 Tagesschau was especially surprised by the attitude of the Spain's opposition leader, Pablo Casado, of the right-wing PP, "who appeared before Congress as though he were a lawyer for the victims of coronavirus, wearing a black tie and offering damning words. No stronger confrontation is possible," concluded the German report.
Nor did the report hide from the fact that there are also major problems in how the PSOE-Podemos government is managing the crisis. "An international poll shows the dissatisfaction of Spaniards with the management of the crisis by their government. Only a third of respondents are satisfied; in Germany, three-quarters are. And of course the opposition wants to take advantage", explains the report, which featured images of the pot-banging protests held in recent days in upper-class neighbourhoods, in Madrid and other cities.