Four people have died in a fire in a squatted office building in central Barcelona. As ElCaso.cat reports, the victims are a baby, a three-year-old boy and their two parents, all of Romanian origin. The disused bank building was also home to four others, all young men of Pakistani nationality.
The incident took place this Tuesday at commercial premises at Plaça Tetuan, number 20, in the Eixample district. For reasons that are still being investigated, fire broke out inside the building and caused the death of four people, with two of them being young children: a new-born baby and a three-year-old. Those affected are groups of two different nationalities: a family of Romanian origin who lived on the ground floor commercial premises, and a second household, consisting of four men of Pakistani origin, who lived in the basement. The fatalities were those who lived in the ground floor premises, according to Barcelona Fire Brigade sources.
As well as the two young children, the other two fatalities are a man and a woman, their parents, who were unable to be saved their lives despite the efforts of firefighters.
Fire broke out on ground floor of a squatted bank office in Plaça Tetuan 
According to ElCaso.cat, the fire brigade was alerted shortly before 6am this Tuesday morning. A person reported seeing smoke and fire in the affected premises.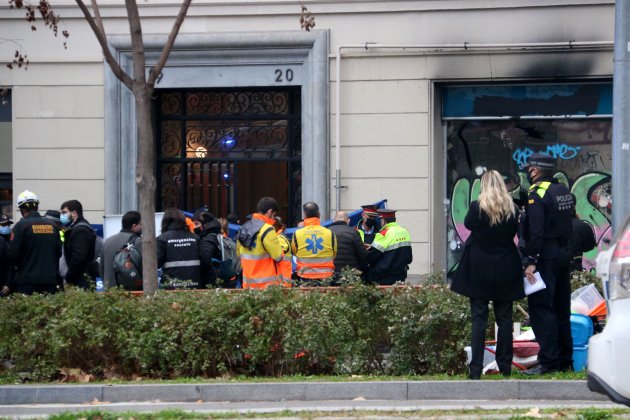 When the Barcelona Fire Brigade arrived at the scene, they were able to verify that there was a fire in a bank office being used as squatter housing and that the fire was widespread. In the building's ground-floor inner courtyard, four people were found calling for help.
Four people affected by smoke inhalation
The four people in the building who survived had mild smoke inhalation effects. Several hours before the fire, between 2am and 3am, an incident had occurred linked to neighbourly relations and the Mossos d'Esquadra police went to the scene. However, there is no evidence that this incident was related to the fire.
Fire extinguished, and investigation in hands of Mossos police
The fire was extinguished this morning, and it was assessed that the building had not sustained structural damage. According to Barcelona mayor Ada Colau, social services had earlier mediated with the affected family in an attempt to get them to leave the premises, but they were unwilling to do so. Residents of other parts of the building were able to return to the building before ten in the morning.
At the moment, the cause of the fire is unknown, as firefighters have not found a clear focus. For the same reason, the Mossos d'Esquadra have opened an investigation. "We are investigating the fire that took place this morning in premises at Plaça Tetuan in Barcelona, where four people were killed," the Mossos d'Esquadra stated in a tweet.