Around one million people returned to work in Catalonia this Tuesday after the easing of Spain's total coronavirus lockdown. Thus, at main metro, bus and train stations, public transport users received one of the 1,714,000 masks that the Spanish government had provided. However, the sight that awaited train passengers after passing through the turnstiles was unusual: stations almost deserted. In fact, in a press conference at Sants station in Barcelona, Catalan Civil Protection has attributed this fact to the fact that most workers chose to use private vehicles.
Masks, more masks and gloves, handkerchiefs, disinfectant gel. Despite the wide presence of the essential travel kit, returning to work was not approached in the same spirit by everyone. Some thought that the two weeks of total confinement decreed by the Spanish government had been lifted too fast, while others who had never even stopped work, shook their heads as they wondered how this will end and what will happen next. "I think the distribution of masks has come a little late," said Lola, who works in the food sector. The construction industry, in which Gabriel works, did stop work, and partially resumed its activity this Tuesday. "I have had two weeks of leave at home and today I'm back. The rules that have been put in place with the handing out of masks I think are okay, now we have to take care of ourselves. Work had to resume sooner and later. If we all stop, what will be left of the country?"
A similar idea is expressed by Raquel, who has continued working these days. "People have to eat every day, so they have to go to work," she said with worry. And she agrees that care must be taken, but she also believes that the economic crisis left behind by the coronavirus will be much more severe than in 2008.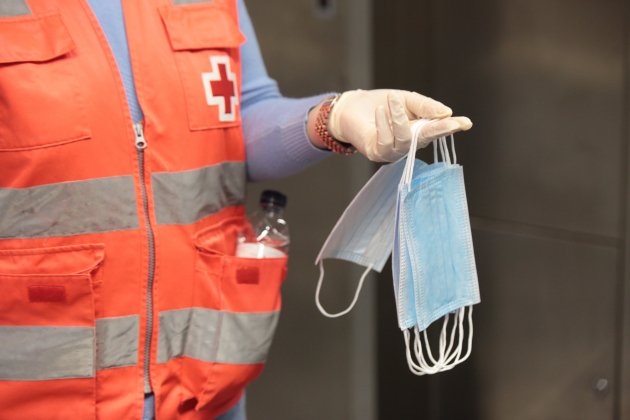 Montse, who works in a consultancy firm, didn't stop work either and she thinks that the distribution of masks for those who take the public transport is being done adequately. "Yesterday I saw images of people just taking masks out of a box. Today they gave one to me correctly, and told me how to put it on." However, she believes that the "easing of lockdown has been a rash decision". "I see other countries in Europe taking other measures. I think they should have waited a little to prevent any relapse."
The occupancy in the Barcelona metro system remained low on Tuesday despite the return of non-essential workers to work, with figures 6% lower than in the last week of March (Tuesday 24th), when the same level of restrictions applied under Spain's state of alarm as today, according to the TMB transport consortium. On the other hand, 81% fewer tickets were validated in the metro system than on the Tuesday after Easter last year, up till 9am. Rodalies suburban train services also showed a decrease in usage of more than 91%. On the two main lines of the FGC rail system, Llobregat and Vallès, occupancy was below 33%, and was almost a third less at rush hour than on Tuesday 17th March (11,525 ticket validations, as against today's 7,854).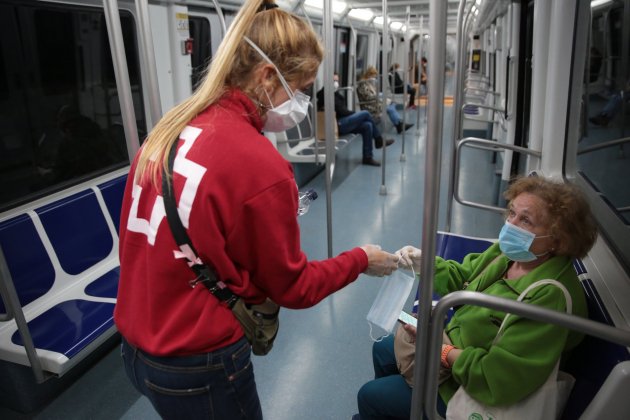 Deserted stations, silent platforms, and the metro cars themselves much less full than usual. The few commuters who used public transport to return to work this Tuesday, between worried glances, took care to maintain safety distances on and off the metro, bus and train.