Agents of the Mossos d'Esquadra (Catalan police) have used force against hundreds of anti-fascists demonstrators today in two Catalan cities. The protesters were gathered in opposition to events related to far-right party Vox being held in Girona, in the north of Catalonia, and Terrassa, near Barcelona.
At least one demonstrator was arrested in Girona and, according to medical services, 15 people were injured, including 11 demonstrators and 4 police. One of the demonstrators is in a serious condition. Protestors have said that some 25 others were attended to by medical staff after the first police charge.
As for Terrassa, confirmed are five police injured and two protesters, one treated on site, the other taken to hospital in a "less serious" state. Maria Sirvent, spokesperson for CUP in the Catalan Parliament and former Terrassa city councillor, has been reported as injured. It's unclear whether she is included in the official numbers above.
🔴 #ÚltimaHora | La diputada @MariaSirvnt ha rebut un impacte de bala de foam a la mà mentre ajudava a una menor que havia rebut un impacte de bala al cap, aquesta tarda a #Terrassa. Molta altra gent ha resultat ferida i està rebent assistència mèdica

— CUP

Països

Catalans (@

cupnacional

) 6

de

desembre

de

2018
Translation: "Latest / Deputy Maria Sirvent has been hit on the hand by a foam bullet whilst she was helping a minor who had been hit on the head, this afternoon in Terrassa. Many other people have been injured and are receiving medical assistance.
Girona
At midday in Girona, the platform Borbonia, supported by Vox, was holding a demonstration in Girona's plaça 1-O, the square named for the 1st October, the date of last year's Catalan referendum. The first clash between police and the anti-fascists came as the latter group tried to enter the square.
A second use of force by police happened once the event had begun, following the arrival of the aristocrat Álvaro de Marichalar, with a provocative tone, according to attendees. Also present at the Borbonia event was Vox's secretary general, Javier Ortega.
The opposition protest, organised by the group Anti-fascist Girona, started early this morning, aiming to stop the rally commemorating the 40th anniversary of the ratification of the Spanish Constitution.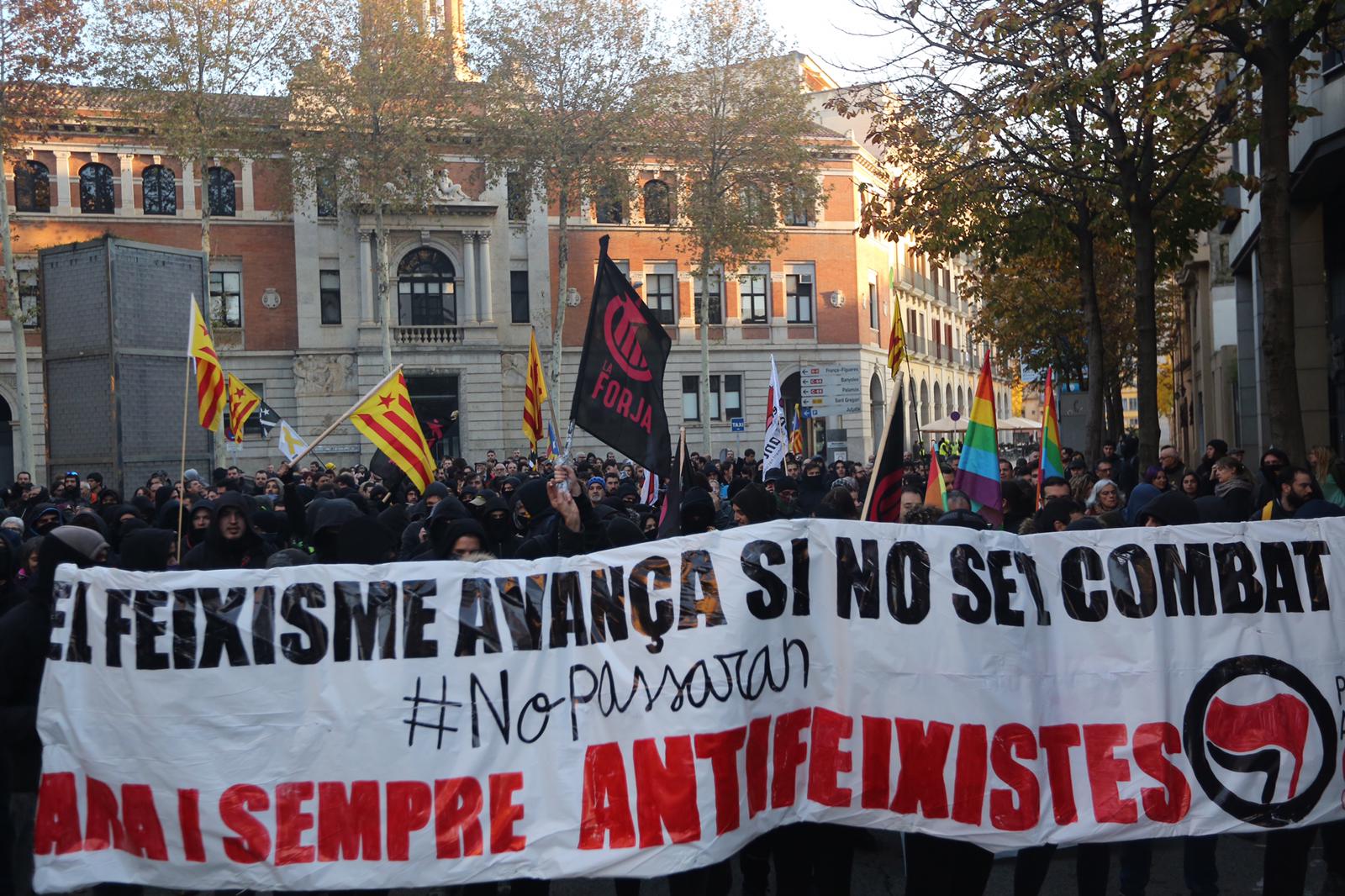 When the anti-fascist group reached the square, they knocked over the barriers set up around it. At that point, the Mossos moved in, dispersing the protesters along different nearby streets. They ended up on one side of the square, surrounded by a thick police cordon they didn't manage to break through.
Among the chants heard were "fascists out of our neighbourhoods", "they will not pass" and "Girona will always be the tomb of fascism".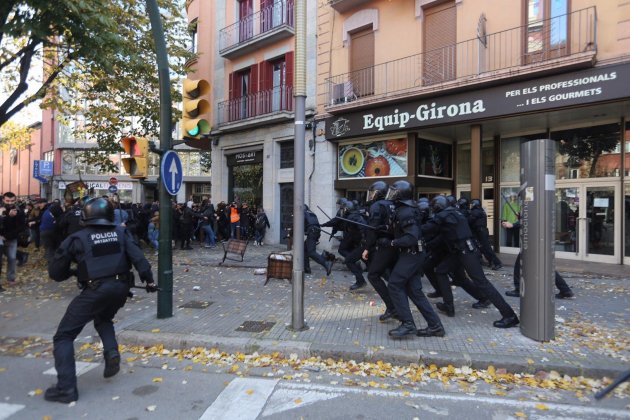 Terrassa
Tonight's scenes in Terrassa also came from anti-fascists trying to prevent an event being held by Vox. Tension grew between protesters and police, officers saying they had stones and beer cans thrown at them. The Mossos then dispersed and chased the demonstrators away, including the use of foam bullets.
MAJOR BREAKING: Catalan riot police clashes with pro-independence activists who are protesting against Spanish far-right party VOX in Terrassa. pic.twitter.com/jHP56bDFmo

— Catalans for Yes

🏴󠁧󠁢󠁳󠁣󠁴󠁿🎗

(@

CatalansForYes

) 6

de

desembre

de

2018
—

Oriol

Freixenet

(@

Ofreixenet

) 6

de

desembre

de

2018
During the incident, some of the protesters (estimated at around 700 people) reportedly burnt bins. In the afternoon, others had burnt Spanish flags bearing the Francoist eagle.
Al barri on vaig nèixer no volem feixistes #Terrassa #SantPereNord #nopassaran pic.twitter.com/MMPsm2f8ZN

— Ruben

Leiva

Beato

🎗 (@

rubenleiva80

) 6

de

desembre

de

2018