Rolling Stones' legendary drummer Charlie Watts died on Tuesday at the age of 80, according to his agent and as reported by British media.
The British rock band had already announced in August that Watts would not be able to join the group on the tour that was due to start in September. "Charlie has undergone a procedure which has been entirely successful, but I gather his doctors concluded this week that he needs rest and recovery," said the band's spokesperson on August 5th.
British media reported that Watts underwent an operation in London after doctors found a "problem" during a routine check-up. It should be remembered that in 2004, the drummer was treated for throat cancer at London's Royal Marsden Hospital.
Complications began weeks ago
In a statement, the drummer said he was striving to make a full recovery, but had to accept the experts' opinion that it would "take a long time".
"After all this fan suffering caused by covid, I really don't want the many Rolling Stones fans who had tickets for this tour to be disappointed by another delay or cancellation," Watts said. "That's why I've asked my good friend Steve Jordan to stand in for me," he said.
After news of his absence from the tour spread, Rolling Stones frontman Mick Jagger said on his Twitter account that he expected Watts to be back on tour as soon as he was "fully recovered".
The tour
Whether boomers or millennials, if you don't know who the Rolling Stones are, you've spent your life locked in a bunker, held hostage by the leader of an apocalyptic cult. Born in 1962, Mick Jagger (singer), Keith Richards (guitar), Charlie Watts (drums) and Ronnie Wood (guitar) —in the past were also Rolling Stones the charismatic guitarist Brian Jones (who died in 1969), keyboard player Ian Stewart (who also died, in his case, in 1985), bassist Bill Wyman and guitarist Mick Taylor— make up one of the most important rock groups of all time, authors of an infinite phonographic oeuvre with albums essential for tracing the cultural map of the 20th century, such as Beggars Banquet (1968), Let It Bleed (1969), Sticky Fingers (1971) and Exile on Main St. (1972), among others.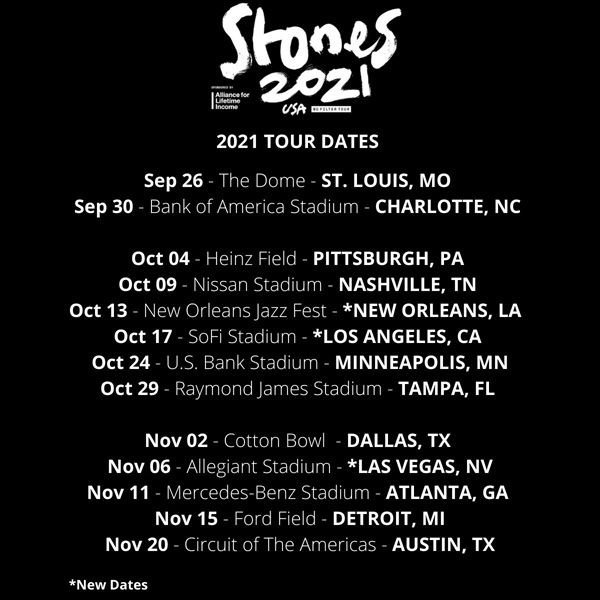 The 'Rolling Stones British Tour 1963' was the first time Their Satanic Majesties hit the road. The British tour started on September 29th in London and ended on November 3rd, again in the British capital. Since then, they have toured 44 times, bringing their riffs to every corner of the world imaginable. A figure that will grow this September when they start the 'No Filter Tour' in which they will once again tour the United States.