More normally the background to a castell (a human tower) would be a square in the centre of some Catalan town, not the Golden Gate Bridge. This week, however, Castellers de Vilafranca are on tour in California, and that's exactly what's happened.
The colla (team) performed outside San Francisco town hall, as well as at Berkeley and Stanford Universities. Then, yesterday, they completed a series of castells on Baker Beach, including the torre de 7 (that's a tower of seven levels, with two people on each of the main levels) visible in the video below.
Avui hem acabat el nostre segon dia a Califòrnia a Baker Beach, amb aquestes impressionants vistes del Golden Gate!#SFCatalanWeek#castellers #somelpeu pic.twitter.com/g5YCH43Z5i

— Castellers de Vilafranca (@Verds) October 10, 2019
Castells, declared Masterpieces of the Oral and Intangible Heritage of Humanity by UNESCO in 2010, are one of Catalonia's best-known traditions, an indispensable part of any local celebration. People of all ages come together to create human towers up to ten levels high.
After Baker Beach, the team went to Stanford University where they gave a talk to explain the tradition, then gave a performance outside one of the campus' libraries.
The video above shows a 4de8, so a tower of 8 levels with 4 people on each of the main ones. The day before, the colla had completed the first ever 4de8 in California at the winery Marimar Estate.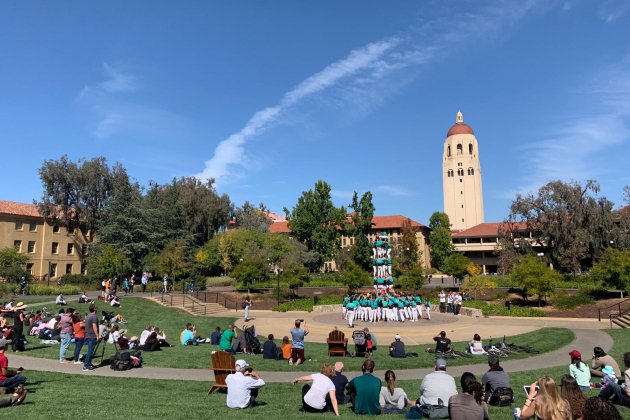 The visit, organised by the Stanford Catalan Association, attracted the attention of staff and students: some watched from the grass, some even joined in the pinya. The pinya of a castell is the mass of people at the bottom who help with the tower's stability and take some of the weight from the shoulders of the bottom level. It's common in Catalonia for spectators and even members of other collas to help with the pinya.
The team is performing around California until Saturday.