The world of music has shown its solidarity with the imprisoned Catalan ministers, Jordi Sánchez and Jordi Cuixart during today's Concert for the Release of the Political Prisoners. The event attracted some of the greats of Catalan pop and rock: Cesk Freixas, els Amics de les Arta, la Companyia Elèctrica Dharma and Beth among others. A charity concert, organised by ANC (Catalan National Assembly) and Òmnium Cultural, all the profits will be donated to the solidarity fund, collecting money to cover financial penalties incurred by independence movement leaders. A fund that is more necessary than ever with the possibility of the prisoners being offered bail on Monday. Barcelona's Olympic Stadium filled this afternoon with people wearing yellow handkerchiefs and hats and carrying estelades, "starred" pro-independence flags. The majority of the audience was families and older people; the percentage of young concert goers wasn't high for a pop and rock concert. Despite this and the biting cold, the atmosphere warmed up as the event went on.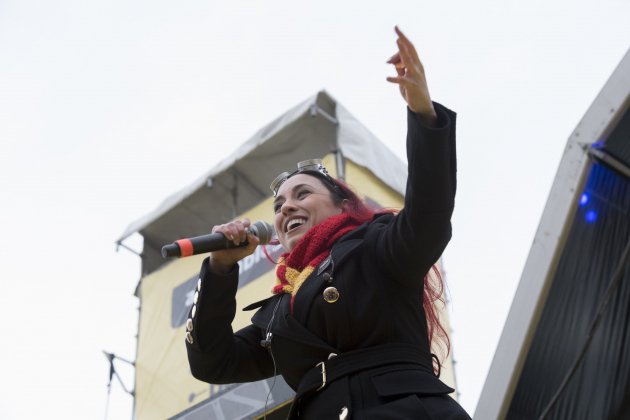 A heavy metal anthem
The concert started, with people still filing into the Stadium, with a heavy-metal version of Els Segadors, the Catalan anthem, from a US group, A Sound of Thunder. This surprising cover was embraced by the crowd, who joined in with the interpreted lyrics. This was followed by Èric Vergés, Èric Vinaixa, Oriol Barri and Joan Rovira singing a song by Els Catarres which couldn't have been more appropriate to liven up a crowd in tough moments: Invencibles (Unbeatable). The crowd reacted enthusiastically, again singing along with the chorus. It ended with shouts of "Visca la terra lliure" (Long live the free land). Between the performances came speeches, letters from the prisoners and videos from the members of the government in exile.
Comencem forts! @asotband amb una versió molt especial d'Els Segadors #ConcertLlibertat pic.twitter.com/itXH9e6yJP

— Assemblea Nacional (@assemblea) 2 de desembre de 2017
Llach, naturally
Next came one of the most famous songs by one of the most famous Catalan singer-songwriters, Lluís Llach's "Que tinguem sort", covered by Júlia Jové and Salva Racero. The crowd picked up energy as the performances and speeches went on, shouting "Freedom, freedom, freedom", and loudly applauding the messages from the ministers in prison or in exile. David Fernàndez, Borja Penalba, Mireia Vives and David Caño, calling themselves Brigada Ovidi Montllor, brought Sageta de foc to the stage, a song by Ovidi Montllor. After they finished, Toni Albà won the audience over with his speech, comprising a satirical speech and an operatic, but nonetheless humorous, aria. Next, Cesk Freixas and Pau Alabajos, turned to another singer who has become a symbol of Valencia with Al vent. The same musicians, joined by Borja Penalba and David Fernández went on to a song heard regularly at protests in recent months, L'Estaca, at which the crowd took out their mobiles and held them up with their flashlight functions on, one of the most moving moments of the concert.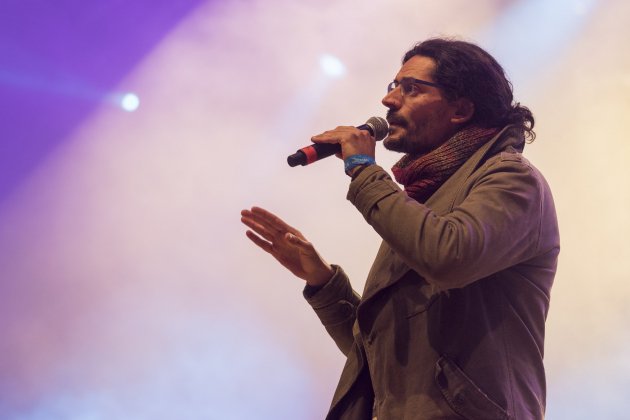 Sona l'Estaca mentre l'Estadi Olímpic s'il·lumina màgicament amb la llum que també hem fet símbol de la llibertat! #ConcertLlibertat pic.twitter.com/TfLWlbWLmV

— Assemblea Nacional (@assemblea) 2 de desembre de 2017
Sadness and rage
Gemma Humet, Judit Neddermann and Paula Valls covered one of the saddest songs every sang by Maria del Mar Bonet: L'Àguila negra, based on an original French song by Barbara. The audience again brought the mobiles out for this one. And if these three singers had channelled the sadness of the crowd over the prisoners' situation, Quico Pi de la Serra and Amadeu Casas brought out their anger with another classic: Si els fills de puta volessin no veuríem mai el sol.

Back to the Transition to democracy
Some of the messages of Spain's Transition to democracy are current again. Marc Riera, Pau Lobo, Jordi Ginesta, Josep Montero, Kel Sangüesa and Gerard Aledo covered the famous song Libre, by Nino Bravo. The rhythm then changed radically with Montse Castellà, Ivette Nadal, Aitor Xeic and Miquel Cubero bringing Esperança by Txarango to the stage, bringing the standing audience to life. Amics de les Arts gave a deluxe performance, with the Orfeó Català choir, of Louisiana o els camps de cotó. Buhos then lit up the stage with their hit Barcelona s'il·lumina, which they played with support from Kelly Koers, Germà Negre, David Rossell and Green Valley.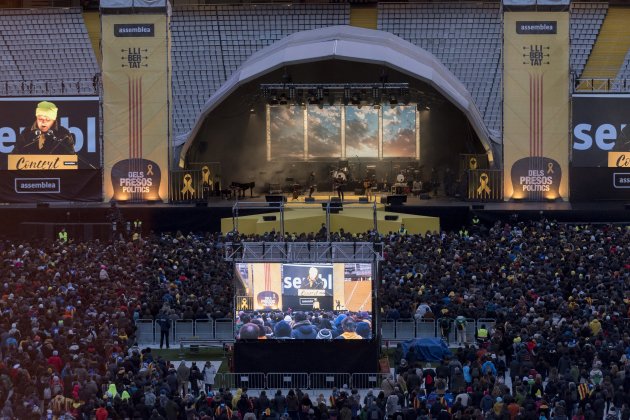 @amicsdelesarts 'Louisiana o els camps de cotó' amb @Orfeo_Catala. Espectacular! #ConcertLlibertat pic.twitter.com/l9VA2mz2F7

— Assemblea Nacional (@assemblea) 2 de desembre de 2017
The sound of the revolt
"I would speak tenderly about this land again", started reciting Joan Fortuny, from la Companyia Elèctrica Dharma, describing the "madness of those condemned" and calling for "the fall of all walls, all, all". He then won new fans as he made the audience sing the slogan "Els carrers seran sempre nostres" (The streets will always be ours). The attendees powerfully echoed Dharma's melodies. It was the prelude to the event's climax, a video message from president Carles Puigdemont, which received a long standing ovation. Beth gave a lyrical epilogue with a cover of País petit, again by Lluís Llach, a deputy from the same electoral list as Puigdemont in the last Parliament.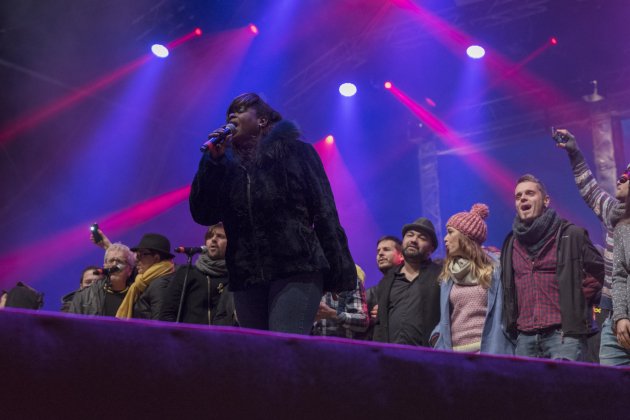 Monica Green.
L'@ElectricaDharma fa ballar Montjuïc! Espectacular! #ConcertLlibertat pic.twitter.com/ZylE47Ciuq

— Assemblea Nacional (@assemblea) 2 de desembre de 2017
Impossible
The main performance of the concert came from la Banda Impossible, made up of Gerard Quintana, Lluís Gavaldà, Natxo Tarrés, Pemi Fortuny and Jofre Bardagí, in the penultimate musical section and the longest. They played songs including Camins, Corren, Tornaré a ser lliure (including part of Bob Marley's Get up) and Pau. The concert ended with all the musicians singing together, led by Mónica Green, with Junts ho farem possible (literally, "Together we'll make it possible), a Catalan version of Joan Baez's We shall overcome, a symbol of protest music. The crowd joined in with verses adapted to the current circumstances like "Visca la República" (Long live the Republic) and "No tenim cap por" (We're not scared at all). That wasn't the end though as, before leaving and off the programme, the crowd brought it full circle with a more traditional rendition of Els segadors.
'Llença't', amb la @bandaimpossible #ConcertLlibertat pic.twitter.com/clZR61zyHD

— Assemblea Nacional (@assemblea) 2 de desembre de 2017
Tots junts vencerem!#ConcertLlibertatpic.twitter.com/1vDCbWhBSp

— Assemblea Nacional (@assemblea) 2 de desembre de 2017