Civil and human rights organisations have so far documented a total of 122 instances of "police violence" during the unrest following some of the protests in Catalonia over the last week. They have called for the police forces to determine and accept responsibility and revise protocols, for legal investigations to be opened and for both foam and rubber bullets to be banned. Similarly, they want all police officers to be clearly individually identified on their front and back.
The group Som Defensores (We are defenders) includes organisations like Irídia, Iacta, Institut Internacional per l'Acció Noviolenta, Stop Bales de Goma and Fede.
The vast majority of the cases are from Barcelona or the city's international airport at El Prat; 60% occured during actions by the Mossos d'Esquadra, Catalonia's police force. Of the 21 people they've already attended to with lawyers and psychologists, 15 reported the were hit with police batons on their heads: seven by Mossos, four by Spanish National Police and four unknown.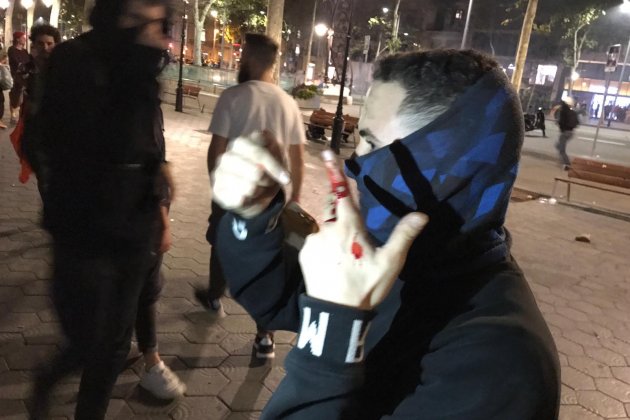 The complaints
There are also 20 cases of people injured by Mossos' foam projectiles, two of them hit in the head, one more seriously. Similarly, eight people have been attended to after being hit by rubber bullets fired by members of the Spanish National Police Corps. Four of these have lost an eye; two have important craniofacial injuries. There have also been reports of alleged mistreatment in a National Police Corps station.
Núria Monfort, of lawyer's cooperative Iacta, has said that the team has responded to around a hundred calls from people held, identified, arrested or searched by police. She says the police pressure increased every day last week, due she believes to "political intentionality". They were, she says, greatly surprised by the first people being sent into pretrial detention without bail because the police reports against them were very generic, based more on the social context than the individual's own actions. Monfort noted that provisional detention cannot have a general preventive aim, that that can only come with a definitive sentence.
They also complained that some of the rulings said that the demonstrations aimed at preventing the Supreme Court's sentence from being carried out, despite no attempt having been made to free the prisoners. Similarly, some of the decisions criminalise, the lawyers say, protesters deciding to cover their faces or wear protective goggles. Monfort argues this is reasonable given that the demonstrations were being broadcast live and people were getting injured, specifically mentioning the rubber bullets.
As such, Monfort says "institutional violence is being democratised" when previously, it only affected vulnerable groups like migrants or young people. "They are being judge for who they are, not for what they're doing," she said.
Batons and rubber bullets
Andrés García Berrio, of human rights centre Irídia, said that on several occasions they saw people being hit on their heads by police batons, which is legally banned. They also saw repeated hitting of people on the ground or walking "not to disperse them, but to punish, humiliate and scare". Similarly, they say foam bullets were fired in calm areas and large charges were made to disperse thousands of people who were doing nothing.
Carles Guillot, of the campaign Stop Bales de Goma (Stop Rubber Bullets), who lost an eye to just such a bullet in 2001, noted that foam projectiles have also affected the eyesight of certain "yellow vest" protesters in France. Guillot expressed doubts about Catalan interior minister Miquel Buch, saying there have never been condemnations of police officers who have acted negligently. There is "total impunity", he says, for which reason he believes an independent body should be created.
One of those injured by a foam bullet was a photojournalist working for El Nacional, whilst another was hit by a police officer with their baton. Indeed, yesterday, members of the media protested in the centre of Barcelona, complaining that as many as 65 of their colleagues had been hurt reporting on the protests.