The summit of Barcelona's Turó de la Rovira is no longer accessible at night. This hilltop site, covered with the concrete remains of Spanish Civil War anti-aircraft gun emplacements, will remain closed every night in order to avoid the overcrowding by tourists and other visitors that had become a serious nuisance to the residents of the area. From May 2nd, the entire area of the summit, misnamed the Carmel Bunkers - the structures are not bunkers, nor is the hill that of Carmel, which is actually the next peak along - will be closed from 7:30pm every night until 9am during the summer, while in the winter months the closing time will be brought forward to 5:30pm.
A few months ago, the Barcelona City Council built a high fence around the entire perimeter in order to close off the space during the night, and the measure has been put into practice this week. On the first day, Tuesday, May 2nd, dozens of people turned up, only to find all access closed. Although the residents of the area have been the ones calling most insistently for a solution to the problems caused by the massive arrival of tourists in the area, with noise until late at night, illegal parties and overcrowding of public transport, they have not shown themselves convinced that a perimeter fence is the solution.
In fact, their fears were fulfilled on the first night of closure, when dozens of tourists and revellers spread out all around the outside of the enclosed area. In addition, Barcelona police fined two people who jumped the fence and entered the gun emplacements area. The reason that mostly-young tourists are drawn to the hilltop is that it is one of the more spectacular lookout points over the Catalan capital, and having been popularized via social media, it turned into a de rigeur location for party-oriented visitors, who would head up there with the intention of watching the sunset and, for some, keeping the party going all night. Visitors should know that the consumption of alcohol in public places, which has, unsurprisingly, been a part of the Bunkers scene, can also be fined in Barcelona.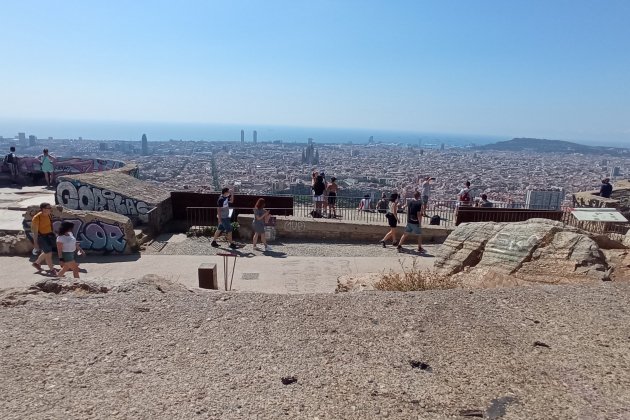 Daytime visits only
For this reason, tourists who wish to access this space should bear in mind that now it can only be done during the day - during the summer, from 9am to 7:30pm - and for free, but that after closing time they will find all accesses closed. While this will be disappointing to some vistors, they should bear in mind that it is also a place where people live, and many residents have repeatedly protested the inconvenience caused by the tourists, especially at night, which is why the municipal government has decided to close the entire area every evening.