Castells, or human towers, are one of the symbols of Catalonia locals are most proud of. In 2010, they were given Masterpieces of the Oral and Intangible Heritage of Humanity status by UNESCO.
Now, the Castellers de Sydney, or the Kangaroos, a team created in the Australian city in 2016, have received firm support from the Castellers de Barcelona. They will be official patrons of the colla, or team, alongside Minyons de Terrassa, one of the most successful modern colles. The patronage consolidates and formalises the technical and logistic support offered from Catalonia to Australia, formalising a relationship which has existed since the Kangaroos were founded.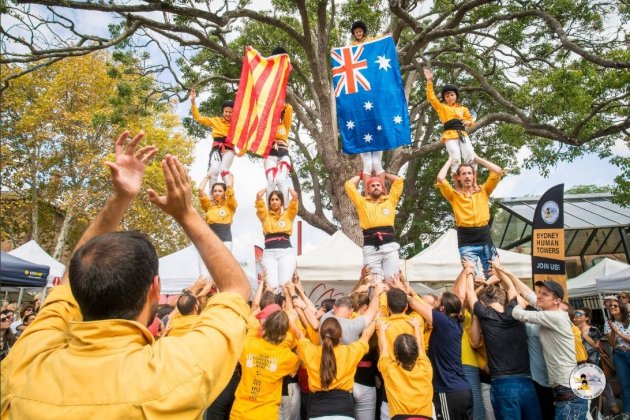 Down under
The Kangaroos aren't the first colla in Australia, having been preceded by the Koalas of Melbourne. They are, however, the team the furthest away from Valls, the home of castells. With their yellow shirts, they were the first team to successfully complete 6 level towers in Oceania. Their best performance to date has been a 4 de 6, 4 de 6 amb l'agulla, 3 de 6 and pilar de 4, all descarregat*. They practice every Thursday in Hyde Park.
* A castell that is successfully built is called carregat, it becomes descarregat if everyone gets down in order, instead of the tower collapsing. A tower that is x de y means it has y levels with x people in each (apart from the special top levels), so 4 de 6 (see this article's main photo) means there were 6 levels, with 4 people on each level of the main structure. Pilar means there is one person on each level (see the photo immediately above the heading "down under"). Amb l'agulla means a pilar was constructed inside another castell, revealed when the surrounding structure is descarregat.