Obra Cultural Balear (OCB), a Balearic Islands organisation for the defence of their culture and the Catalan language, has announced that its president won't attend an event organised by Spanish king Felipe VI in Palma. The reception is scheduled for 8:30pm on Friday 3rd August at one of the royal family's residences on the islands, Almudaina Palace.
The body's president, Josep de Luis Ferrer, has declined his invitation, denouncing the existence of political prisoners in Spain. "The current circumstances and the role the monarchy has chosen to play make it impossible to approve a normal institutional relationship governed by democratic values," he said. The body has also noted the use of Spanish legislation to harm the existence and presence of the Catalan language on the islands.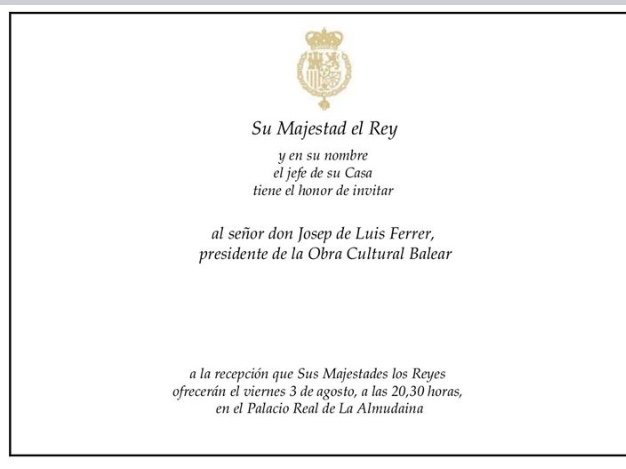 "Writing these lines, your speech on 3rd October 2017 echoes in my memory and the image comes to mind of my friend Jordi Cuixart through the glass of a prison when, on 22nd July, I went to see him for the last time," de Luis said. Jordi Cuixart is the president of Òmnium Cultural, a similar organisation to OCB for Catalonia, who has been held in pretrial detention for months since last year's independence referendum. OCB's president said he will stay at home "enjoying the company of my family, that which Jordi Cuixart, like the other political prisoners, is deprived of".
"I will take advantage of the time to remember the true defenders of liberty, respect and democratic values", de Luis concluded in a letter to king Felipe.