Late, but prices of antigen tests are now regulated. The Catalan Government approved this Tuesday that diagnostic tests will cost, at most, €2.94 in chemist shops, as announced by the Spanish minister of Health, Carolina Darias, after the meeting of the inter-ministerial commission on prices. This measure will come into force next Saturday, January 15th. In the middle of the sixth wave, which for now does not let up, and with primary care collapsed by the mild covid cases caused by the Omicron variant, these tests have become essential to detect the disease.
Before Christmas, with a rise in the number of cases and people trying to make family gatherings safer, it was almost impossible to find them in chemist shops. And the establishments that did have them, sold them for €10 or €12. This situation was radically different from other European countries, where they are not only sold in chemist shops at a much lower price, but also in supermarkets: in a Mercadona supermarket, in Portugal, they can be bought for €2.10.
Across Europe
Many voices called for a limit on the price of antigens tests: at this cost, not all families could have access to them. Other neighbouring countries had already opted for this route of regulation, and in some they are free of charge. Apart from Portugal, where inhabitants have access to four free tests per month in laboratories, in Germany they cost €1.75 on average and in France €6.10 in chemist shops. This is a higher price, but in supermarkets they are cheaper and cost less than €2. The French government also offers free tests, an option that until now was open to the entire population, but now is only accessible for those vaccinated.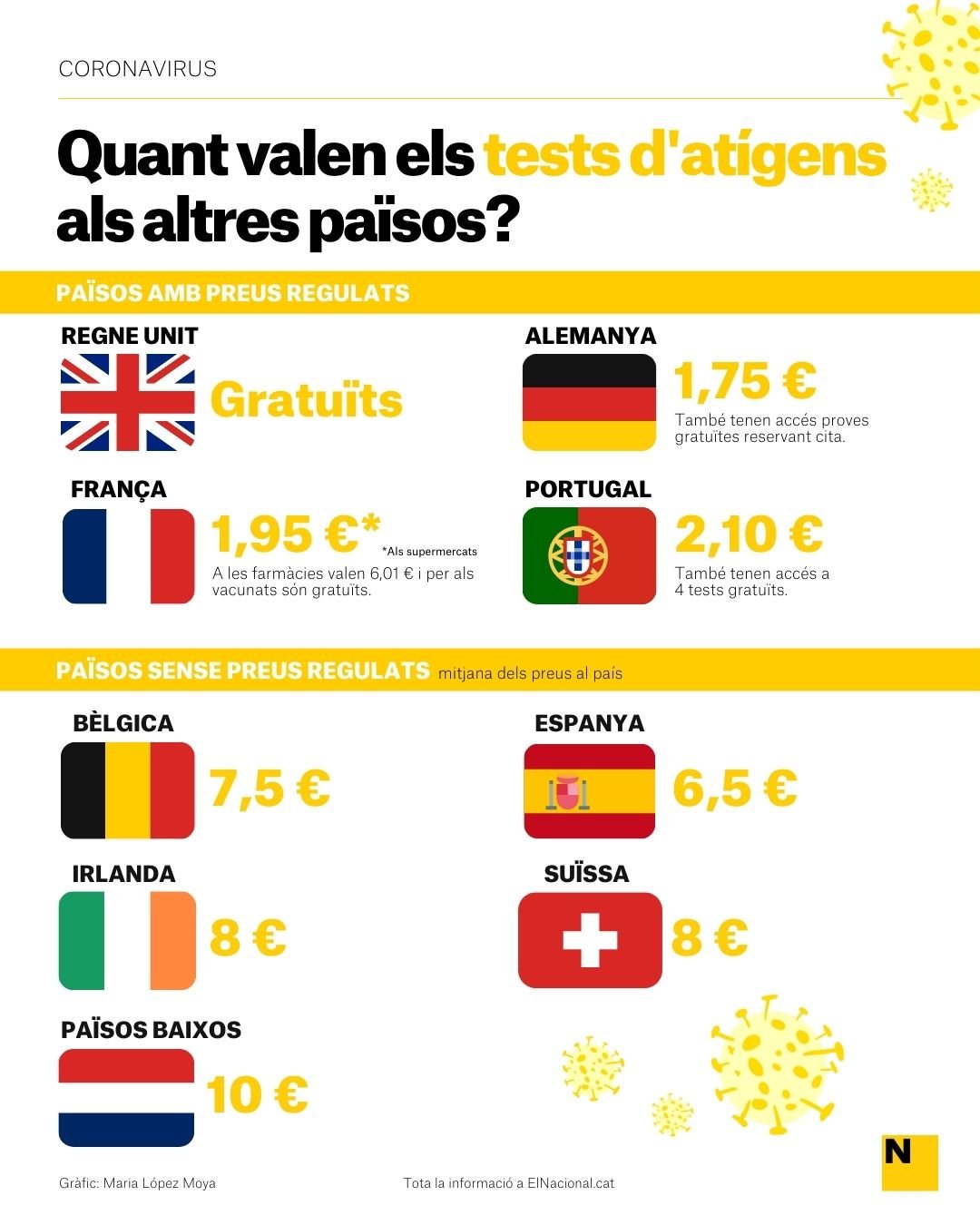 Infographic by Maria López Moya
According to the calculations of the National Association of Large Distribution Companies (Anged), the average price in Spain was 213% higher than in the rest of European countries. Why? According to Fedifar, the Pharmaceutical Distributors Federation, one of the reasons could be that these countries have "very well-established" antigen distribution channels, more so than in Spain: "They sold antigen tests in chemist shops months before Spain, and they have more open channels with China. This makes things easier". There are also those that have their own producers, as is the case of Germany.
Why now?
When Pedro Sánchez announced he would regulate prices, while announcing he would buy the antiviral from Pfizer and we had to prepare to treat covid as an epidemic, his decision was applauded. However, experts agreed that it came too late: "I would have liked him to announce this a month ago, when there were no tests in the chemist shops," said Luis González Díez, president of the Official College of Pharmacists of Madrid (COFM).
According to the Spanish government's spokesperson, Isabel Rodríguez, this decision had not been taken previously because the priority was another: to guarantee the supply of tests. For this reason, she compared the current test situation with that occurred at the beginning of the pandemic with the masks. Before the Spanish government's decision was made public, Rodriguez advanced that an "affordable" price would be chosen so that this resource would be accessible to the entire population and the situation of primary care could be quickly resolved.