Around 300 agents from six elite units of the Spanish police and Civil Guard were ready to assault the Catalan Parliament by land, air and underground with the aim of arresting Carles Puigdemont, the president, during his speech on 10th October in which he declared then immediately suspended independence and offered dialogue to the Spanish government.
The plan was revealed in a report in Spanish news magazine Interviú, which adds that it was the plan the Spanish government wanted to use the least. According to the magazine, this was the "plan C", a "secret" plan in case the pro-independence demonstrators waiting at the gates of the Ciutadella park which contains the Parliament building had decided to camp out and the president and ministers had entrenched themselves in the chamber.
In that case, one group, the largest, comprising 250 agents, would have entered the park to clear out demonstrators, whilst another group of 15 would have entered via the sewers and a final group would have arrived by helicopter, descending via ladders. The magazine reports that agents were prepared with plans of the park and the sewers.
What's more, according to Interviú, the Mossos d'Esquadra (Catalan Police) BRIMO (Mobile Brigade) and ARRO (Operational Resources) units had received "very clear warnings" to let Spanish police and Civil Guard agents pass if they needed to enter the Parliament.
President Puigdemont himself has shared the news through his Instagram account.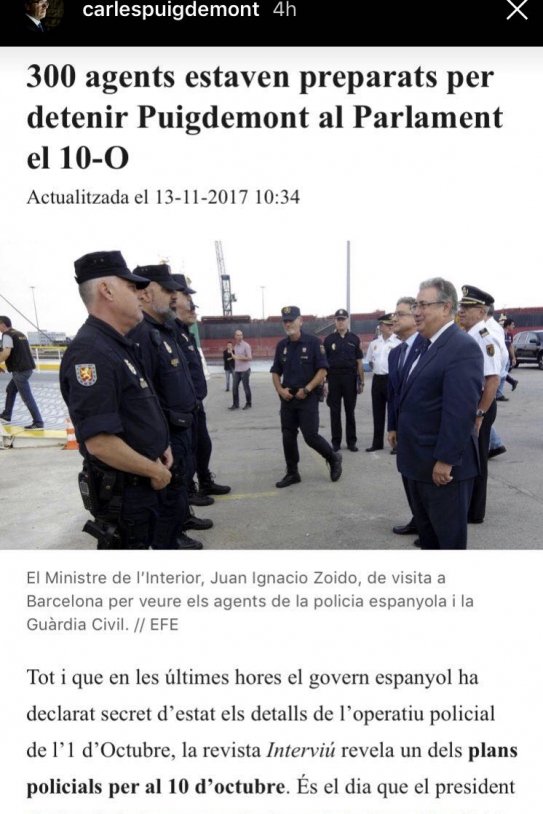 This police threat would explain, on the one hand, the rapid exit of the Parliament and the whole government and the official gazette not publishing the proclamation of the republic or the application of the decrees. The government wanted to avoid violence leaving the agreements on "standby".