Just a few yards from the tourist bustle of Gaudí's Sagrada Família cathedral, there is a modest ground-floor flat where Enrique Pons has lived for 50 years. Lately, this retired Barcelona illustrator and writer has been spending time visiting his neighbours at the nearby Casa de Cádiz, a once-shuttered-up community centre which a few months ago was transformed by squatters into an impromptu hostel for around 30 homeless people. The thing is, Enrique's monthly pension of 600 euros goes almost entirely on the rent of his flat. After seeing his rent steadily increase, he's now faced with a threat from the owners to evict their 85-year-old tenant.
Enric tiene 85 años y fue el gran dibujante de la editorial catalana, Bruguera. Tiene una pensión de 600€ y la gasta para pagar el alquiler. Lleva 50 años en el piso de Barcelona y una inmobiliaria sin escrúpulos lo quiere desahuciar. En @SenseSostreBCN le alimentamos y cuidamos pic.twitter.com/DmUknbEvfc

— Lagarder Activista🎗 (@lagarder81) 1 de enero de 2019
"They can drag me out feet first," barks Pons from his armchair. The retired illustrator is not used to receiving visits and says he has completely accepted that his destiny is to live alone. The moment you enter his home it is impossible not to notice the number of pictures, posters and paintings of Marilyn Monroe hung on the walls, painted in three broad bands of green, red and yellow.
The small dimly-lit room is a jigsaw puzzle of details and memories of all kinds. Many of the objects have Egyptian or mystical motifs. This is because, after the 1980s closure of legendary Barcelona publisher Bruguera where Pons had worked, he devoted himself to tarot reading, an activity he still practices. The two million pesetas (120,000 euros) he received as a redundancy payment after losing his job was lent to a friend, who never returned the sum.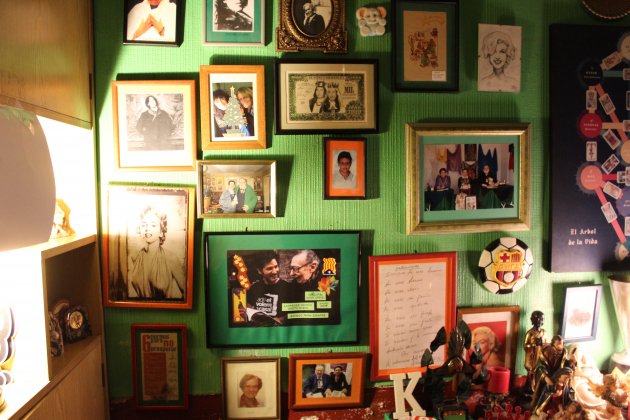 Ever since then, he has been living modestly in order to be able to pay the monthly rent on the flat which he had first moved into with the rest of his family when he was a child. In order to survive from one month to the next, Pons has kept his electricity use to the minimum; the heating system in the home is broken. Until about three years ago, however, his rent was substantially less than it is now: just over 300 euros.
Then a new owner began to renovate the building and its utilities and services, raising his total monthly payment to 530 euros. With the help of a lawyer, the retired illustrator then got in contact with a charity meals service and social services assistance from the Barcelona City Council.
Recently, Enrique's situation was noticed by his new neighbours at the Casa de Cádiz, who decided to help him, offering him food and fixing his heating system. "He shares the little that he has. We support each other mutually," explains Lagarder Daciun, an activist working for the homeless, who is among the organizers of the squatter residence in the same block.
To give visibility to the case, Lagarder shared his story via Twitter and appealed for people to show solidarity by buying copies of the artist's last book, which he has a stock of.
Enric a sus 85 años se siente desbordado con vuestros mensajes de solidaridad. Teme a una avalancha de personas a su hogar para adquirir su libro. Tiene un mensaje para la gente que le ha brindado apoyo y solidaridad. Su libro está expuesto en calle Sardenya 277 de Barcelona. pic.twitter.com/Kyw1k77lzy

— Lagarder Activista (@lagarder81) 2 de enero de 2019
El hombre del traje pistacho (The Man in the Pistachio Suit) was put on sale, via the Casa de Cádiz. In little over a day, he has been deluged by visits, both from people wanting to help directly and from the media. Now, at least, Enrique has the heating on.