Whether you've come to Catalonia on holiday or for business, your trip to Barcelona is likely to start at, to give it its full title, Barcelona–El Prat Josep Tarradellas Airport. It's already been a long journey, so all you want to know is what's the quickest and easiest way to get into the city. We have four main options to consider: the dedicated Aerobus, train, metro and taxi.
Note: All timetables and prices correct at time of publication.
Aerobus
One of the most popular options is the Aerobus service of dedicated buses between Barcelona and the airport. There are two routes: A1 to and from terminal 1 and A2 to and from terminal 2. From the airport, there are stops at plaça Espanya, on Gran Via near Urgell, at plaça Universitat and finally at plaça Catalunya; heading to the airport you can board at plaça Catalunya, the junction of carrer Sepúlveda and carrer Comte d'Urgell or plaça Espanya.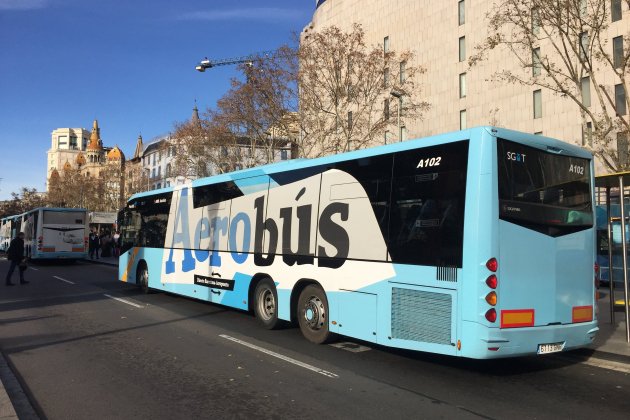 A one-way Aerobus ticket costs 5.90€ (about £5.20, $6.70), or there's a return ticket option for 10.20€ if you're heading back to the airport within a fortnight. You can buy tickets on their website, or on the bus itself at the time. Buses leave every 10 minutes from 5:00am to 0:30am, going up to once every 5 minutes to terminal 1 for most of the day, and the journey normally takes 35 minutes or less. It's also worth noting they have dedicated space for luggage, unlike the trains, and that there's free WiFi on board.
There are also a variety of municipal and intercity buses, which could be useful, especially if you're heading to somewhere near Barcelona instead of the city itself, like L'Hospitalet de Llobregat, Sant Joan Despí or Castelldefels, or to other cities in Catalonia like Lleida, Tarragona or Girona. The municipal buses can also prove cheaper than the dedicated Aerobus, though may take longer.
Metro
The newest option is the metro link to both terminals via line L9 Sud (orange on metro maps). This might be particularly useful for businesspeople and those here for conferences, with stops like Fira for the trade fair, Mercabarna and Zona Universitària.
Except for after nights when it hasn't closed, Barcelona's metro opens at 5am; its closing times vary. Sunday to Thursday, it closes at 12 midnight, whilst on Fridays, or if the following day is a public holiday, it stays open until 2am. On Saturdays, and some public holidays, it is open all night.
Train
Alternatively, there are trains about every half hour from terminal T2 (a free shuttle bus links the terminals for those needing T1) on line R2 Nord (light green on maps). The line has multiple stops in Barcelona, including the stations of Sants, Passeig de Gràcia and El Clot-Aragó, before continuing on to destinations like Montmeló (for the Circuit de Catalunya track used for the Grand Prix), Granollers and Sant Celoni.
You can buy tickets for both the metro and the train from machines in the relevant stations, with options for various different languages. On the metro, you need to buy a special airport ticket for 4.60€, valid for a single journey; if going by train, you can buy a single, 4-zone ticket for 4.20€.
Taxis and cars
For our final main option, both terminals have multiple taxi ranks. The price of a journey will vary depending on factors like day of the week, time and traffic but it can easily cost 30€ (about £27; $34) or more to get from the airport to the centre of the city.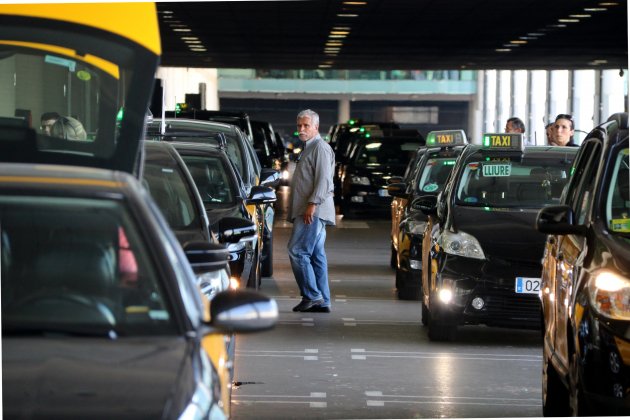 The minimum cost of a taxi journey starting from the airport, regardless of destination is 20€. The cost of a journey between the cruise liner terminal at the port and the airport is set at 39€. There's an official website and app which can calculate an estimated price for your specific journey under regular traffic conditions based on current tariffs.
Of course, as in any major airport, there are also a variety of car hire firms to chose from in both terminals which you can book in advance or when you get there. Popular apps like Uber or Cabify, meanwhile, have come into conflict with Barcelona authorities over regulations. As of the time of writing, Uber is not operating in the city; Lyft is US and Canada-only. Cabify, a Spanish equivalent, however, has returned to Barcelona.