The Barcelona restaurant Disfrutar has been chosen as the fifth best in the world, according to the British ranking The World's 50 Best Restaurants 2021 presented this Tuesday at a gala in Antwerp (Belgium). At the gala, the list of the fifty top gastronomical establishments of 2021 was made public, among which we find six from Spain.
Disfrutar is the restaurant of former El Bulli chefs Oriol Castro, Eduard Xatruch and Mateu Casañas. Opened in 2014 in Barcelona's Eixample district, the establishment made The World's 50 Best ranking for the first time in 2018 - in 18th position - and has now climbed to number five. Ferran Adrià's El Bulli restaurant on the Costa Brava which first brought the three chefs together closed in 2011.
Six restaurants in Spain
The gala held in Antwerp has once again placed at the top of the prestigious list the Noma, the establishment of Danish chef René Redzepi in Copenhagen. Specifically, the restaurant is located in a former winery in the Danish capital. In fact, with five consecutive victories in the ranking, Noma now rivals El Bulli, which was number one in the world in 2002 and then continuously from 2006 to 2009. 
The podium in the British ranking The World's 50 Best Restaurants 2021 is completed by the Danish Geranium (Copenhagen) and the Etxebarri (Biscay). There are, in fact, three Basque Country restaurants in the top 20: as well as Etxebarri, the Donostia establishment Mugaritz was fourteenth, while Elkano (in Getaria), was sixteenth. Diverxo (Madrid) reached the twentieth position and yet another Basque restaurant, Azurmendi (Bilbao), came in at number 49.
Contemporary techniques
More than a thousand independent experts in the world of gastronomy are involved in drawing up this list, including chefs, journalists and amateurs. The last ranking was made in 2019, with last year skipped due to the Covid-19 pandemic.
The list highlights "contemporary techniques, daring combinations and the drive to surprise diners" as some of the characteristics that Castro, Xatruch and Casañas adopt in Disfrutar. "Dishes such as panchino (a fluffy bun) stuffed with caviar and sour cream, or multi-spherical pesto with tender pistachios and eel, are designed to 'please, surprise and excite'," they add.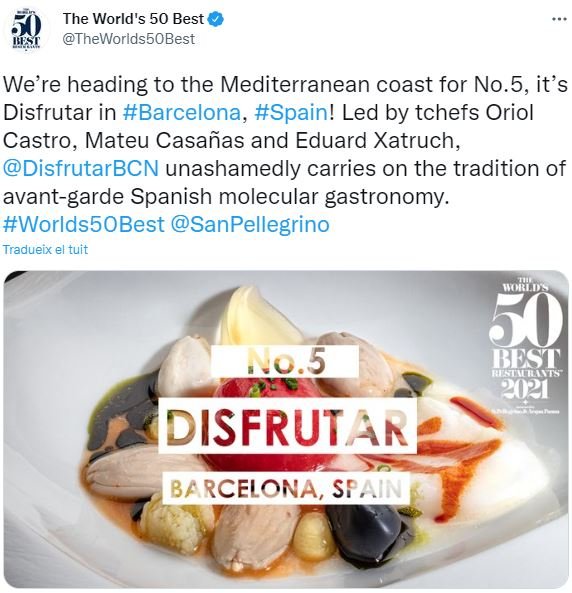 Disfrutar is defined on its website as follows: "Open since December 2014, the restaurant Disfrutar (in English, "Enjoy") arose after years of intense work at el Bulli, where Mateu Casañas, Oriol Castro and Eduard Xatruch met and trained professionally, and after reaffirming the work done at Compartir opened in April 2012 in Cadaqués."
Their aim is to "amaze, stimulate and create through gastronomy." "To express our passion, the language we choose is the tasting menu. For us, surprise is an important feeling in the gastronomic experience. For this reason, we advise you to choose the menu without seeing it previously detailed," they explain.