After firing Julen Lopetegui as the national team coach today, Luis Rubiales, president of the Royal Spanish Football Federation (RFEF), and his team have confirmed that Fernando Hierro will take his place as substitute. With two days before their first match in the 2018 World Cup in Russia against Portugal, they'd been under pressure to find a quick solution.
Lopetegui's firing comes after it was announced today he has been hired by Real Madrid to replace Zinedine Zidane. Some players wanted him to continue, but management were not happy with Madrid's statement, or the fact they were only given minutes' warning of it.
Now they have to decide whether Hierro will be an interim manager to cover the World Cup before they sit down to find a new face to tackle the team's future challenges, or whether maybe to put their full confidence in him for the coming years.
OFICIAL | Fernando Hierro asumirá el cargo de seleccionador nacional durante el Campeonato del Mundo de Rusia. https://t.co/g576TRpp3D

— Selección Española de Fútbol (@SeFutbol) 13 de junio de 2018
Translation: Official. Fernando Hierro will take on the role of national coach during the Russia World Cup.
Hierro, previously RFEF's sports director, has to have one thing clear. They cannot change tactics two days before their first match. He'll have to stick as coach with the focus on possession and position which has made the team great in recent years.
Hierro's team will include Albert Celades, who had been coach of Spain's under-21 side. They will run their first training session this Wednesday, needing to maintain the level the team has reached ahead of the competition. They debut this Friday against Portugal in a group which also features Morocco and Iran.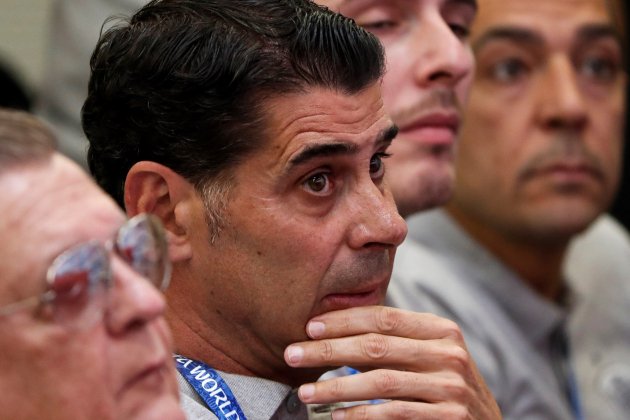 Hierro, a coach with little experience
After retiring as a player in 2005, Fernando Hierro started on a journey towards the dugout as a coach, but it was a journey of ups and downs. His first experience was as RFEF's sports director, starting in 2007, a role he held until 2011, leaving with Spain's only World Cup title.
He then signed as Malaga's general manager, lasting only a year in the role before deciding to leave. In August 2014, he was announced as coach Carlo Ancelotti's deputy at Real Madrid, another role he lasted a season in before Ancelotti was fired.
His only experience as coach was at second-division Oviedo. He managed the Asturian team for the 2016/17 season, for a record of 17 wins, 10 draws and 15 losses, leaving them 8th in the table, only two points short of the fight for promotion.
He's now been back as RFEF's sports director for seven months before today's sudden shake-up.