The surprise was sprung in Las Vegas. Everything indicated that it would be the night of Bad Bunny and Un verano sin ti, but there is no one to stop this Motomami: Rosalía had to rock, and she rocked. The Catalan will bring home the Latin Grammy for album of the year, perhaps the most coveted award of the night. "This is the album that I have had to fight the most to make, but the one that has given me the most joy", she said when she came to the stage and with a surprised face after collecting the fruits of a musical work turned into masterpiece. She was nominated in 9 categories and triumphed in 4 of them, including best alternative music album, best art design and best recording engineering, all of which were born with her Motomami phenomenon. The big winner of the night of the 2022 Latin Grammys was Jorge Drexler accumulating 7 awards out of the 9 he aspired to, but against Rosi and her phenomenal album he couldn't keep up.
What happened in Vegas...
The singer from the Barcelona metropolitan town of Sant Esteve Sesrovires gave one of the most frenetic performances during the gala of this 23rd edition in the Nevada desert city. With a dominatrix aesthetic, wrapped in black latex, Rosalía performed Hentai, La Fama and Despechá, her song of last summer, without missing the opportunity for a good perreo with her partner, Rauw Alejandro, the "love of her life" to whom she dedicated the award... scroll down for the video. Nothing of what the Catalan has achieved has been gifted to her, and in an industry in which the gender gap remains acute, she recalled other women who, like her, have made history in music, such as Björk and Patti Smith. "If they did it, it means that it is possible", she said.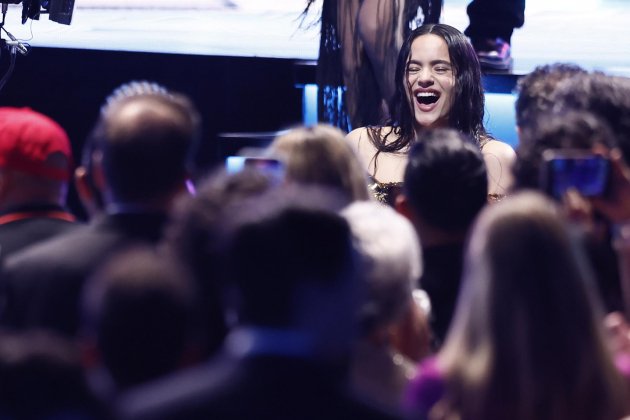 From Barcelona, with flamenco 
But the success of Catalan talent was not limited to Rosalía: the female quartet Las Migas won the Latin Grammy for best flamenco album with Libres. Formed by guitarists Marta Robles and Alicia Grillo, violinist Roser Loscos and singer Carolina Fernández "la Chispa", the group formed in Barcelona in 2004, and competed for the Grammy with major flamenco names such as Estrella Morente and María Toledo. They have become a new benchmark in flamenco - with a style that has modernized the genre and exported it around the world.