Rosalía has certainly moved her audience tonight - and it is something that is, obviously and thoroughly, mutual. This Saturday evening, playing the first of two weekend concerts at Barcelona's Palau Sant Jordi, Rosalía could not hold back the tears when she took in the multitude of her Catalan fans applauding her. Hardly surprising: tonight she was playing her hometown, and for the very first time in a major stadium-size gig of her own. Here's the moment.
ROSALÍA LLORANDO pic.twitter.com/SsUxV510Fj

— Rosalía CF España (@rosalia_spain) December 7, 2019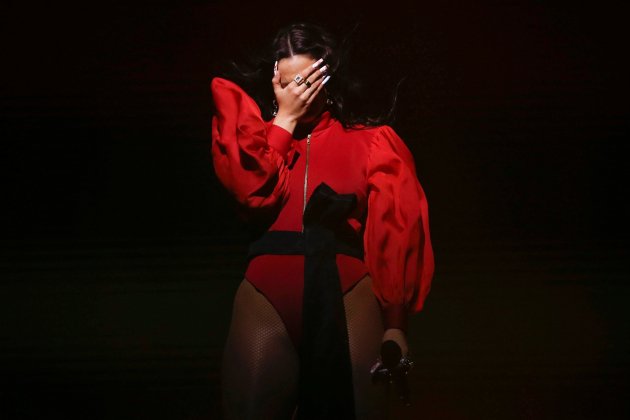 Her recent hit 'A Palé' and also 'F*ckin Money Man', which is in Catalan apart from the title, were played early in the set. And indeed, Rosalía thanked the audience who had come to see her and she did so in her language, Catalan: "Thanks to everyone who's here, to share this with us."
Qué mona 🥺 pic.twitter.com/JecIXq06ma

— Rosalía CF España (@rosalia_spain) December 7, 2019
Rosalía, the global star from Sant Esteve Sesrovires, on the outskirts of Barcelona, reacts in a normal way to something that is very evident: she's Catalan, she's playing at home. And therefore, between songs, she also speaks in Catalan, practically entirely. 
And one of the most emotional of all her comments between songs is precisely a brief love letter to the part of the Barcelona metropolis that she calls home: the "Baix Llo" - the Lower Llobregat valley, frequently disdained, known as the home of industries and second generation immigrants. And much loved by "La Rosalía":
"Estima'm com la Rosalia estima el Baixllo" pic.twitter.com/TTPKexr6YS

— Roger (@RogerMedina_) December 7, 2019
"Love me like Rosalía loves the Baix Llo", she says, and sends the fans wild.