It's just a few hours until Catalan singer Miki Núñez, Spanish representative in this year's Eurovision Song Contest, is to perform at the final of the festival in Tel Aviv. And the best way to calm his nerves is simply enjoying the views of the Israeli city's beach from his hotel room. With optimism on his face and in his attitude, Miki receives El Nacional's En Blau to talk about what lies ahead on Saturday night.
Miki has been preparing for the performance of his song, La Venda (The Blindfold), for more than two months. He sums up his Eurovision experience as "intense, with heaps of pressure, constantly on the move" and praises the staging of his song, a collaboration between Fokas Evangelinos, masterful choreographer and designer whose name is well known at Eurovision and who is also director of this year's Russian performance, and Mamen Márquez, who, as well as being Miki's vocal teacher, has also been enveloping him in tender loving care to calm the tension as the final approaches.
But speaking of love, he's proud to talk about the simplicity of his family and friends, who arrived just last Wednesday from his town of Terrassa, near Barcelona, to cheer him on. "Terrassa is empty this week," he says. "Everyone's in Tel Aviv."
Talking about the performance we'll see this Saturday night on stage, the Catalan singer says "everything is done, and we're pleased with the work we've done." The staging has a clear objective: to artistically represent the key message of La Venda. Miki comments that "those who don't understand Spanish will be able to see the essence of the song reflected in everything we've prepared. For me, the power of every word we sing is the most important aspect of all, and you'll see this in the presentation of my song. 
The power of every word we sing is the most important aspect of all, and you'll see this in the presentation of my song
Miki speaks frankly about the work done in the rehearsals: "The first rehearsal went pretty badly in terms of the direction and because we weren't comfortable either, while the second one was perfect, since we were able to show everything we had worked on these four months, and we can do better still."
However, he declares that it's a huge effort just to get to the stage at Eurovision and, more than whether or not he wins the contest, the sensation he carries with him now is above all the knowledge and tranquillity that the hard work has been done, and done well. Now, as the Catalan says, "I have this huge desire that, when we finish all this, all this huge family of us that have worked on the project, should all travel to some deserted island, along with Fokas, and just relax. We deserve it after all the work we've done". A meticulously-prepared artistic direction that Televisión Española has poured its efforts into, to leave behind the poor Spanish results of past editions.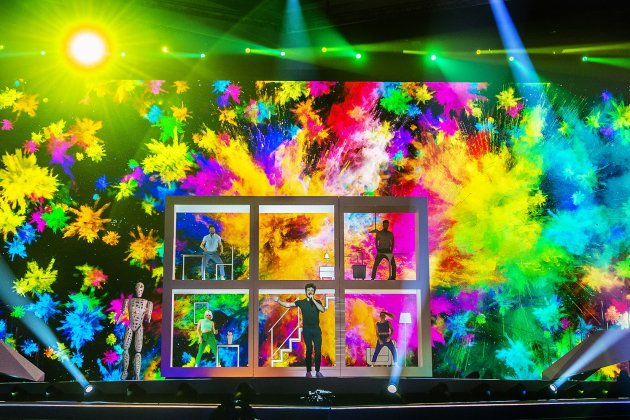 If there's one thing that defines Núñez, it's that he always comes across as spontaneous and cheerful, and he's even infected some of his rivals at the festival with that. He explains that he's had a very good relationship with the Belgian contestant, Eliott and they've even spoken of future collaborations. Meanwhile, he says that his own favourites to carry away the unique glass-microphone trophy are the tunes by French singer Bilal Hasani, Italy's Mahmood and the Swede John Lundvik - "that's in my head constantly, I can't stop singing it". In fact, it's one of the candidates to win this year's edition.
The slogan for this year's festival is "Dare to Dream" and, challenged to put that motto into practice, Miki says that, if he wins Eurovision, "Madrid should really host the festival since it is the capital of Spain, but it doesn't have large indoor venues and, on the other hand, in Barcelona we have the Palau Sant Jordi and I think, why not hold it there?"
The Catalan singer made his first television appearance at the festival last Tuesday during the first semifinal, when the presenter of the festival, jokingly showed a photo of him with shirtless torso. Miki says it was just being natural: "There's a simple story behind it. I like to take care of myself and in fact, on the beaches of the town where I spend summer, all my friends have seen me like that."
When the festival is over, Miki Núñez is looking forward to working on his first solo album: "Of the 20 songs that I presented to Universal, we picked 12, and of those there are nine that could be chosen as a single." Catalan musical colleagues like Arnau Griso, Nil Moliner, the band La Pegatina and members of Dalton Bang are among those who are likely to work with him on this recording project.
But back to the here and now: "If I had the chance to repeat the Eurovision experience, I'd jump at it, but I'd also like to repeat as a composer. I think it is the most exhausting thing I've done in my entire life but at the same time the most satisfying in terms of the result. All the comments have been good."