The 21st December Catalan Parliament election result with its pro-independence majority hasn't brought the stability the markets were hoping for. The Spanish stock market has collapsed since the start of trading today, as has the euro, making international headlines. Specifically, the Ibex has fallen 1.19% (its largest fall since the start of the month), taking the index to 10,182 points.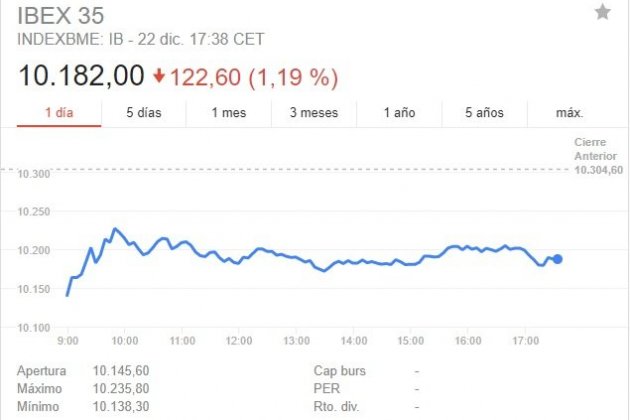 All the most important stocks fall
All the most important Spanish stocks have recorded thunderous falls, led by Catalan banks Caixabank and Banc Sabadell, which both fell over 3%.
Caixabank lost 3.60%, closing the week at 3.94 euros/share. For their part, Banc Sabadell closed at 1.68 euros, a fall of 3.43%.
Also standing out are important companies like Banc Santander, who lost 2.15%, and BBVA, down 1.47%.
The euro also falls
The euro has also fallen in European trading, dragged down by the election result. According to German analysts, this decrease is partially influence by the Catalan election as it gave an absolute majority to independence supporters, but the largest party was unionist Ciutadans, which makes forming a government more complicated and increases instability.
In numbers, the euro has fallen on the foreign currencies market since the early morning. At 4pm (GMT+1), the exchange rate was 1.1835 dollars to the euro, compared with 1.1859 dollars per euro at the same time yesterday, before the election results were known. The European Central Bank has set the reference exchange rate at 1.853 dollars.
Overall, the euro oscillated through the day between 1.1817 and 1.1869 dollars.
Eurozone stock markets in tow
It's not just the currency the election results and the Ibex have shaken, but all the European indices. The Spanish stock market had been, until the start of the political crisis, one of the best-performing in Europe.
As such, the Spanish fall is also a hit for Europe, already facing the rupture from Brexit. Combined, they have led to the European markets also closing the week down.
The DAX, the main German index, fell 0.28%; the CAC-40, the largest in Paris, fell 0.39% and the Milan stock exchange (FTSE MIB) fell 0.14%, among others.
International attention
In the international press, Reuters goes with the headline, "Catalan vote batters Spanish stocks, euro dips".
Catalan vote batters Spanish stocks, euro dips https://t.co/Me0esUHP1s pic.twitter.com/1g8Lkm6H66

— Reuters Top News (@Reuters) December 22, 2017
Bloomberg also looks to Catalonia: "Catalan vote weighs on euro".
Catalan vote weighs on euro https://t.co/Rr7XuYPZz5 via @robbrand #tictocnews pic.twitter.com/PxJcss4pbU

— Forward Guidance (@ecoeurope) December 22, 2017
German outlet Finanzen also considers the issue, in an article (updated since the below tweet) explaining the "consequences of the Catalan vote on the Euro".
Diese Auswirkungen hat die Katalonien-Wahl auf den Euro: Die Gemeinschaftswährung fiel zwischenzeitlich um einen halben Cent bis auf 1,1817 US-Dollar. Am Morgen erholte sie sich wieder etwas und notierte bei 1,1848 Dollar. Die… https://t.co/ZSATO1MfDP ❚FINANZEN.at

— Börsenberichte (@BoersenDE) December 22, 2017