Peruvian cuisine is fashionable, a winning formula resulting from the influence of 5 cultures. After living together for many years in this South American country, they have managed to merge into a blend of fresh, expressive dishes which combine different flavours and textures in a visually appealing way. And when these elements are coupled with diners' new yearnings for lighter, healthier, more appealing fare, Peruvian cuisine becomes an option that pleases many people.
In today's article, we are showcasing Totora, a restaurant featuring Peruvian cuisine inspired by the "Caballitos de Totora", traditional reed sailing vessels on Peru's coast. It offers Barcelona a gastronomic proposition featuring the most characteristic fish- and seafood-based dishes from the country's cuisine, including ceviche, tiraditos, causes, maki, nigiri and rice dishes.
The restaurant is located in the upper part of the Eixample Esquerre district. It is large, actually extremely large, and divided into three areas: a lounge area which serves delicious piscos and cocktails based on Peruvian flavours, a restaurant area and finally a small terrace. It has good lighting, large tables, comfortable chairs and a décor in blue tones and stone which yield an elegant atmosphere, ideal for celebrating special occasions with your family, friends or partner.
Excited by the recommendations of the young servers, we Miguelines sampled several of the dishes available at Totora. We began with an assortment of 4 different kinds of ceviche: seabass, salmon, calamari and baby prawn, and finally bluefin tuna. They were all well-balanced, elegant and full of nuances and textures that made each spoonful different. We liked the tuna one the best.
Salmon ceviche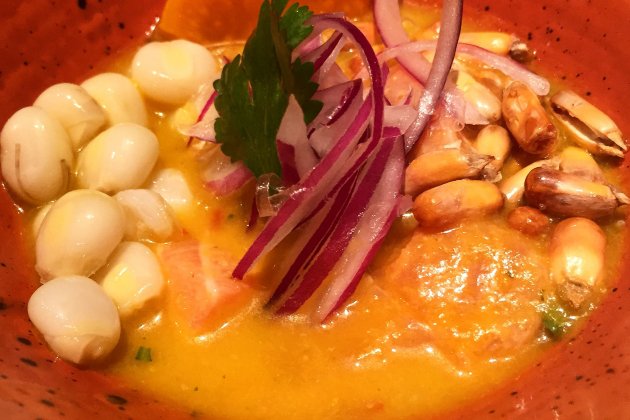 Seabass ceviche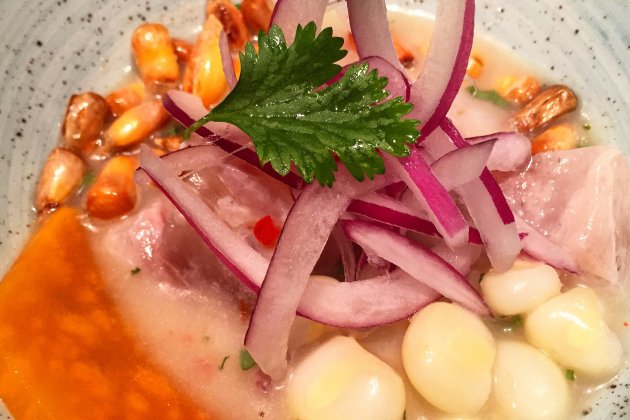 Calamari and baby prawn ceviche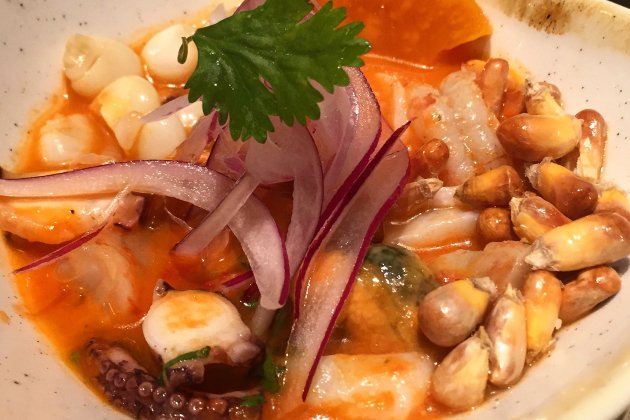 Tuna ceviche

We continued the dinner with 3 other classic dishes from Peruvian cuisine: a salmon tiradito, which was flavourful and brimming with contrasts; a tuna belly causa, which didn't quite convince us because of the texture of the causa and the kind of tuna belly used; and an octopus "a l'olivera" causa, in which the blend of the olive sauce, the technique used to cook the octopus and the creaminess of the pesto causa made the dish truly intriguing.
Salmon tiradito
Tuna belly causa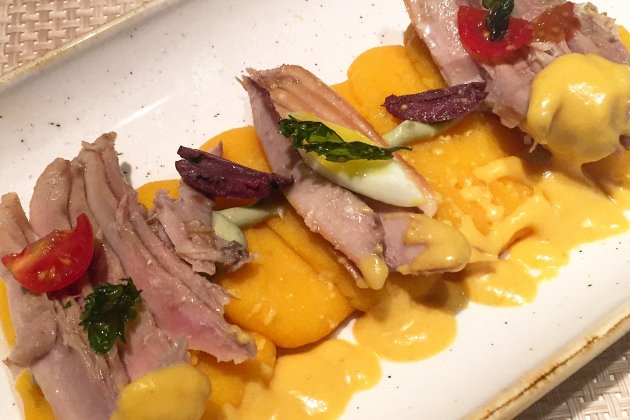 Octopus "a l'olivera" causa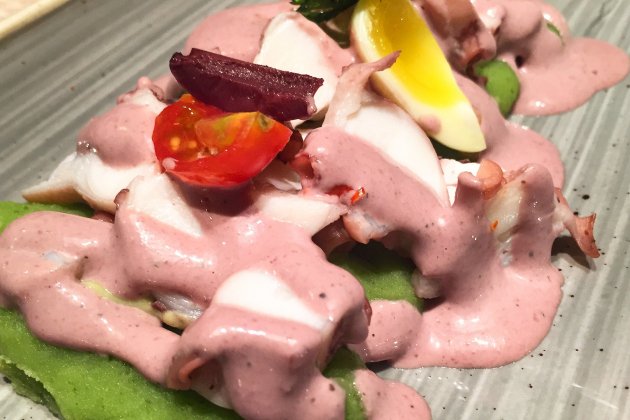 Finally, we decided to try a chicken ají, a traditional Peruvian stew which combines chicken with a sauce made of yellow pepper, cream, onion and garlic, accompanied by a small bowl of rice. Perhaps this dish wasn't as bright as the others, but it was flavourful and creamy, and we would recommend it for anyone who wants a bit more than the delicate flavours from the sea.
Chicken ají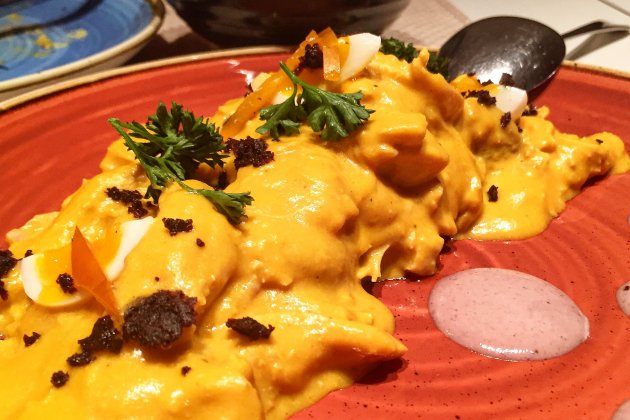 For dessert, we were brought a kind of fried rosquillas, or ring-shaped pastries, accompanied with brown sugar and mango honey, ideal for fans of extremely sweet desserts.
Rosquilles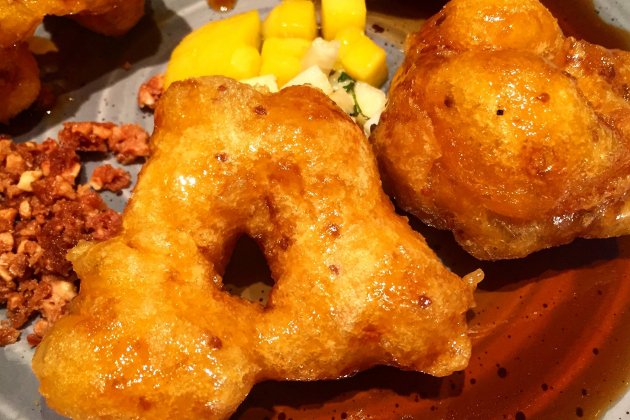 Peruvian cuisine is in the midst of a major expansion in Barcelona, and there is a growing passion for ceviche and tiraditos. Prestigious chefs are opening restaurants in the city, and Totora is a good example of one that wants to share this cuisine with Barcelona residents. However, this expansion will only raise expectations in both the supply and the demand, and Totora will have to grapple with the challenge of gearing up in order to keep up with the frantic pace of the market. Totora team: go for it!
Score
Food
Wines
65
63
Service
Venue
63
70
Price
MIGUELÍN STARS
40€
Per person: 1 ceviche + 1 main course + 1 pisco sour
Where is Totora?
Address: C/ Còrsega, 235, 08036 Barcelona
Telephone: 936 67 43 72
Timetable: Monday to Sunday 1:30 to 4 pm and 8:30 to 11:30 pm Website: www.totorabcn.com